Dear Friends,
Today's new recipe, Garlic Basil Pork Chops, comes from our Paleo Menu-Mailer!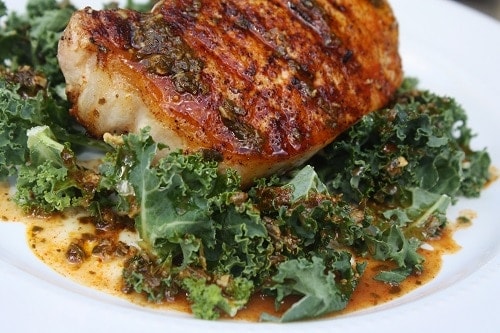 Week 7
Paleo

Garlic Basil Pork Chops
Serves 4
Ingredients:
4 large pork chops
Sea salt and freshly ground black pepper, to taste
2 teaspoons paprika
1/2 teaspoon cayenne pepper
2 tablespoons coconut oil
1/4 cup chopped basil leaves
2 medium cloves garlic, minced
3 tablespoons raw honey
2 tablespoons lemon juice
2 tablespoons olive oil
1 teaspoon cayenne pepper
4 cups chopped kale
Directions:
Preheat grill to MEDIUM-HIGH.
Rub pork chops with first 4 ingredients (salt and pepper through coconut oil); place on grill, close lid and cook for 5 minutes per side or until a meat thermometer reads 160 degrees.
In a blender, place next 6 ingredients (basil through cayenne pepper); blend until smooth.
Serve pork chops over a bed of chopped kale then drizzle basil sauce over the top.
——————————–
We have so many more delicious recipes just like this in our Premium Menu-Mailer program, and for the first time ever you can get a FREE trial!  Just click here to get immediate access to Premium Menu-Mailer…no payment necessary!