Looking to add some heat to the dinner menu?
So, you want to start spicing things up, but you don't know where to start. Chances are, you walk through the pepper aisle examining all of the pretty little peppers and wondering what in the world you would do with them if you were to bring them home with you.
There are a hundred or so varieties of chili peppers out there, and they range in flavor and heat from sweet and mild to "are-you-nuts" fiery. Some chilies are used in their fresh form (jalapeño), while others are most often dried or powdered (cayenne).
The heat of peppers is rated on something called the Scoville scale. If you've ever eaten a jalapeño, you know that it has a bit of a bite to it. Jalapeños rate about 2500 on the Scoville scale and, to give you an idea of how much hotter chili peppers can get, a habanero pepper rates about 100,000–350,000 on the scale.
Some chili peppers are so extremely hot that they rate 2,000,000 on the Scoville scale. At that level of intensity, it's no longer about taste—it's about seeing how much pain you can stand in your mouth before you die! That might be a little extreme, but I'm more about eating for flavor and not so much about eating food hot enough to make me sweat.
Where does the heat come from?
Many people think the heat from peppers comes from their meat, but the heat in peppers comes mostly from the compound called capsaicin in their seeds, veins, and the pepper parts near the veins. If you want a less fiery dish, remove and discard the chili pepper seeds and membranes before chopping them. For more heat, include the inner bits.
Nutrition in chili peppers
The capsaicin in chili peppers is a strong antioxidant. In addition to antioxidant properties, chili peppers contain carotene, Vitamin C, B vitamins, potassium, iron, and magnesium.
How to use chili peppers
Once upon a time, the only place you'd see chili peppers used would be in Mexican dishes, but that's not the case anymore. Roasted chili peppers are delicious in salads. Fabulous in soups, on nachos, and in pasta dishes, chilies offer a sweet heat to a variety of meals.
As you experiment with chili peppers, start on the lower end of the Scoville scale and make your way up until you reach the edge of your tolerance level.
Here is one of my favorite new recipes featuring a chili pepper–Jalapeño Salmon and Brussels Sprouts: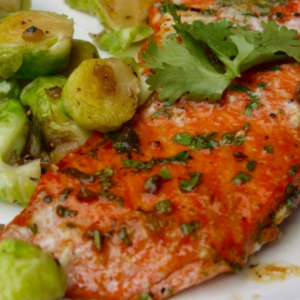 Jalapeño Salmon and Brussels Sprouts
Ingredients
2

tablespoons

minced jalapeño

2

teaspoons

honey

2

tablespoons

chopped fresh cilantro

1

teaspoon

grated fresh lemon zest

4

tablespoons

fresh lemon juice

Sea salt and freshly ground black pepper

to taste

1

clove

garlic

minced

2

teaspoons

olive oil

4

medium

salmon filets

skin on

1

tablespoon

coconut oil

1

large

shallot

chopped

2

cups

halved Brussels sprouts
Instructions
Heat grill to medium heat.

Whisk the first 8 ingredients (jalapeño through olive oil)

Rub each side of salmon with the jalapeño mixture.

Lay the salmon on the grill skin side down.  Cook salmon for 5 to 10 minutes until fish flakes easily with fork.

In a large skillet, heat coconut oil.  To the oil, add the shallot, Brussels sprouts and salt and pepper to taste.  Cook for 5 minutes, until Brussels sprouts are tender.  Serve Brussels sprouts with fish.
PS–Dinner Answers offers many more Paleo recipes — subscribe today!