Hands up if you plan to have a turkey in the oven at some point over the next couple of days.
I know you're probably not thinking about what to do with that leftover turkey yet, but I want to catch you before you toss out that beautiful turkey carcass in the trash.
Instead of throwing the carcass away (please don't throw it away!), you can use it to create wonderful, delicious and nutritious soup stock.
We absolutely love turkey soup in my house, and I know if you try this recipe, you're going to love it, too!
The trick to making turkey soup is to roast the carcass.
If you are too tired after entertaining family for Thanksgiving Dinner, put the carcass in a freezer bag until you have a couple of hours to give it the proper treatment it deserves!
When you're ready to get down to business, pull the carcass apart and put it in a roaster with some roughly chopped carrots, celery, onions, and 8 or 9 whole cloves of garlic. Drizzle with olive oil, and roast at 425 degrees for 45 minutes.
After 45 minutes, take the roaster out of the oven and let it cool for a few minutes. Turn on one of your largest stovetop elements and place the roaster on top. Cover the carcass with cold water and boil uncovered for an hour. NOTE: METAL ROASTERS ONLY! If you've roasted your carcass in a different type of roasting pan, transfer the bones and vegetables to a stockpot for this step!
After an hour of boiling, strain the whole mess and pop it in the fridge overnight.
In the morning, remove the layer of fat from the top and get ready to make a big pot of delicious Roast Turkey Carcass Soup!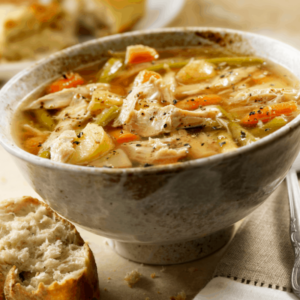 Roast Turkey Carcass Soup
Ingredients
2

tablespoons

olive oil

2

large

onions

chopped

4

carrots

chopped

3

stalks

celery

chopped

salt and pepper

to taste

Roast Turkey Carcass broth

1/2 to 1

teaspoon

thyme

depending on taste and quantity of soup
Instructions
In a soup pot, heat the olive oil till hot over medium-high heat.

Add the onions and cook 5 minutes till soft and translucent.

Add the carrots and celery, and cook another five minutes, stirring occasionally.

Salt and pepper well to taste.

Now add the Roast Turkey Carcass broth.

Bring everything to a rolling boil; don't cover the soup.

Add the thyme and enjoy!
Subscribe to Dinner Answers today for more delicious recipes!