The only thing that hits the spots like eggs and bacon is eggs and sausage. Or, maybe a hot juicy sausage right off the grill. Or, sausage and peppers. Or, sausage and pasta. Or, sausage soup. Can you tell I love this delicious meat?! Sausages are not only scrumptious, but they're also very versatile.
But, not all sausage is created equally. I would strongly suggest you find a local source for your sausage rather than buying the big brands. Not only are the animals raised on small farms generally more healthy and given a better quality of life than commercially farmed animals, but those familiar brand name links and patties are packed with chemicals and fillers. Check your ingredient labels closely because you might find any number of disturbing ingredients including MSG, refined sugar, soy, cheese, vegetable oil, and fillers you can't pronounce.
Pork sausage can make an excellent Paleo-friendly protein, but pay attention to your tip and your trick to get the most out of this delicious cut of pork.
Here is your Trick:
If you don't have a local farmers' market or food co-op that supplies homemade or small-batch sausage, look for quality sausage brands like US Wellness Meats and Applegate.
Your Tip:
And if you can't find anything that looks good, make your own sausage patties! All you need is some local grass-fed ground pork and traditional sausage spices like garlic powder, fennel seeds, ground sage, salt, onion powder, and salt and pepper.
And your Recipe: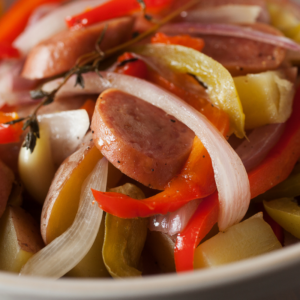 Sausage and Peppers
Ingredients
1

pound

Italian pork sausage

cut into 1/4 slices

1

medium

red bell pepper

seeded, deribbed and sliced

1

medium

green bell pepper

seeded, deribbed and sliced

1

medium

yellow bell pepper

seeded, deribbed and sliced

1

medium

onion

sliced

1/2

cup

low sodium chicken broth

4

cloves

garlic

pressed

1/2

teaspoon

crushed red pepper flakes

1/2

teaspoon

dried oregano leaves
Instructions
Coat a large skillet with a tight-fitting lid with oil over medium-high heat.

Add sausage; cook and stir for 5 to 6 minutes or until no longer pink.

Add bell peppers, onion, broth, garlic, crushed pepper flakes and oregano; saute for 5 minutes or until liquid evaporates.

Reduce heat, cover and simmer for 5 minutes.
—————————————
PS–Looking for great holiday recipes?  Make your holidays homemade with Dinner Answers!