I'm big on preparing fresh meals from scratch, but I also like to be realistic. Cooking should be an adventure, but hopefully a fun one and not a frustrating experience!
If you're trying to transition from feeding your family with packaged meals and takeout to good home cooking, you deserve a big pat on the back. You'll also probably want to jump through your monitor and give me a big hug for the following time-saving tricks.
Protein
When you're doing your weekly grocery shopping, go ahead and buy those larger "family" or "club" packs of meat. When you get them home, spend a few minutes prepping that meat for when you need it. For instance, if you have a chicken stir fry on your menu plan (and hopefully you're using Dinner Answers!) for later in the week, cut a couple of your chicken breasts into strips and freeze them nice and flat. That way, you can take them out the day you're making your dish and you have one less thing to worry about. It's a great practice to portion your cuts of meat when you get them home so you get that yucky chore of handling raw meat out of the way all at once. You also waste less meat because you don't end up defrosting more than you need.
Bonus Tip!
Want to make it that much easier on yourself? Look at your menu for the week and see what marinades or sauces those recipes call for and make them ahead, too. Now for the brilliant part—freeze the meat in its marinade so you don't find yourself twenty minutes before dinner saying, "Dangit! I don't have enough time for this to marinate." It will marinate as it thaws!
Produce
Prep your fresh veggies when you bring them home from the market. Slice your peppers into strips (these can also be frozen for later use if you end up with an abundance of peppers); dice and slice your celery; wash and cut up your broccoli; peel, core, and chop that pineapple. When it comes time to prepare dinner after a long day at work, you'll have your protein and veggies already prepped!
Rice
I only use brown rice and I'll admit that it can be difficult to make that leap from easier-to-cook white rice, but once you get used to it, you'll never go back. Now, I am aware that brown rice is more work to prepare than white is—it can take up to 40 or 50 minutes to get it on the table. So what's my solution to help integrate it into your meal plans a little easier? Cook a great big batch while you're at home doing something else (laundry, meat and veggie prep, receipt filing, etc.), and when it's cooked and cooled, set some aside for that evening's dinner. Then, portion the rest in plastic bags and freeze them so they can be taken out and reheated to accompany that chicken stir fry. It's no harder to cook a giant batch of brown rice than it is to cook a single one, so get it out of the way all at once. It will last in the freezer for a good couple of months.
See what we've done now?
By taking some time after your grocery shop to help you out later, you can have a delicious meal on the table on a weeknight in minutes.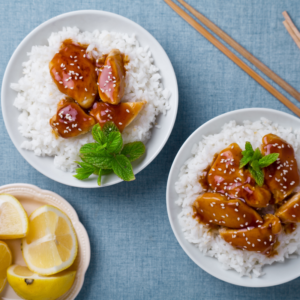 Thai Chicken Stir-Fry
Ingredients
3/4

cup

salsa

2 1/2

tablespoons

peanut butter

2

tablespoons

low sodium soy sauce

2

tablespoons

balsamic vinegar

1

tablespoon

molasses

1

tablespoon

water

1

teaspoon

chili powder

1/2

teaspoon

ground ginger

1/2

teaspoon

garlic powder

1/4

teaspoon

freshly ground black pepper

4

6-oz.

boneless skinless chicken breast halves

cut into stir-fry strips*

1/2

tablespoon

olive oil

1

tablespoon

sesame seeds

toasted if desired

2

tablespoons

thinly sliced green onions
Instructions
Prepare sauce: In a medium saucepan, combine first 6 ingredients (salsa through water); bring to a boil, stirring often; keep warm. Meanwhile, in a plastic or paper bag, combine chili powder, ginger, garlic powder and pepper; add chicken strips; close bag and shake until coated. Heat the oil in a large skillet over medium-high heat; add chicken strips and stir-fry for 2 to 3 minutes or until cooked through. Spoon the sauce onto individual dinner plates and arrange the chicken strips on top; sprinkle with sesame seeds then top with green onions.
Notes
LEANNE'S NOTE: partially freeze chicken for easy cutting.
SERVING SUGGESTION: Garlic-sauteed bok choy and brown rice.
PS–You can receive delicious menus (complete with shopping lists!) like this delivered right to your email inbox by subscribing to Dinner Answers today!