You hear it all the time–salmon is so good for you because of the Omega 3 fatty acids it offers those who partake. But the scoop on salmon is that you better make sure you're taking a walk on the wild side. Farmed salmon may be filled with carcinogenic PCB's (polychlorinated biphenyls–byproducts of oils, hydraulic fluids, transformer and electrical capacitors).
PCB's are problematic because they disrupt the endocrine system. In other words, hormones making is altered causing such problems as cancer, infertility and maybe even other sexual changes. This is still being studied.
And while PCB's are banned, they persist in the environment and are harbored in animal fat. In nature, salmon is a predator and will eat other fish, besides the usual bugs and such. For the most part, wild salmon live in fairly pristine areas and their natural food is clean. However, farmed salmon is fed a commercial fish meal made with fish that comes from all over the world.
According to Jane Houlihan, vice president for research with the Environmental Working Group, the commercial fishmeal is the problem as it is highly contaminated with PCB's. PCB levels are much higher in farmed fish–as much as 16 times the PCB's found in wild salmon. Add to that the fact that farmed fish are also up to twice the fat of wild salmon and you have a product with a reputation for being healthy but in reality, isn't so hot.
So the moral of the story is look for wild salmon and eat that only. There are resources for this product. I get mine at Trader Joe's. I am checking other resources on line and will write a review once I try their products. Let me know if you know of any others, too!
Here's a great recipe that uses wild canned salmon but you could easily substitute any wild leftover cooked salmon you might have: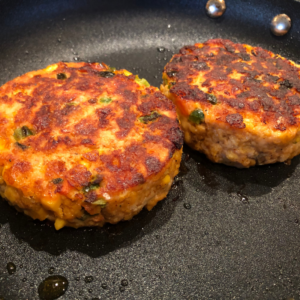 Salmon Burgers
Ingredients
1

pound

canned salmon

drained and flaked

2

small

onions

chopped

1

small

green bell pepper

chopped

3

tablespoons

avocado oil

4

cups

mashed potatoes

1

egg

beaten

1

teaspoon

Dijon mustard

1

teaspoon

Worcestershire sauce

1

teaspoon

dill

Salt and pepper

to taste

6

whole wheat hamburger buns
Instructions
In a skillet, add half the oil and saute onion and bell pepper together till soft.

Meanwhile, mix salmon, egg, potatoes and seasonings together in a bowl. When onion mixture has cooled a bit, add to the salmon mixture. Make into 6 salmon patties. Heat remaining oil in skillet over medium heat and cook patties 5 minutes each side or until completely cooked. Serve on warmed hamburger buns.
Notes
SERVING SUGGESTIONS: Serve with the usual fixings for hamburgers–lettuce, tomato, onion and mustard, mayonnaise and ketchup. A green salad will round this off nicely.