A few years ago (quite a few years ago, actually), a new cooking trend was born – Once A Month Cooking – OAMC for short. The whole idea was to spend a day cooking, freeze what you make, they reheat it as needed; sort of DIY Stouffer's concept.
Great idea, soggy delivery. The proponents of this type of cooking said it only took a day to make a month's worth of meals and you had "great" dinners that you could reheat anytime. The problem was that most of these dinners took on the watery characteristics of reheated casseroles and the flavor of the food was as lukewarm as their presentation. The other issue is time – a whole day for heaven's sake! Who can literally take a day off from life to do this?
In the early 2000s, a new version of OAMC was born and the result was dinner assembly franchises popping up like groundhogs in the spring. Everywhere you turned in suburbia you could find several types of these storefronts.
The idea of these places goes like this: come into their store, spend two hours or so assembling 12 to 15 meals from their already chopped veggies and pre-prepared ingredients, so all you have to do is put them together raw, label, and freeze for cooking at a later day, thus removing the OAMC twice-baked casserole deal. The problem is it doesn't come cheap.
So what's a time-stretched harried homemaker to do? Do it yourself, of course! There is a way to do this. Here's how:
Find meals that can be assembled in their raw state, defrosted successfully, then cooked freshly. A good example of this is meatloaf. All you have to do is make your meatloaf mixture, shape it, then put it in a freezer zipper bag, mark the bag and date it, then on the day you want to use it, defrost it and bake it. You will never know that your meatloaf was previously frozen!
Here is a freezer meal recipe for you to try!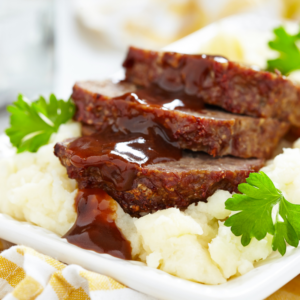 Mega Marvelous Meatloaf
Ingredients
2/3

cup

dried stuffing mix

1

egg

2/3

cup

buttermilk

1

pound

extra-lean ground beef

1 1/3

teaspoons

garlic powder

2/3

teaspoon

thyme

1/3

cup

ketchup

2/3

teaspoon

honey

2

teaspoons

Worcestershire sauce

Salt and Pepper

to taste
Instructions
In a 1 gallon plastic freezer bag, mix and blend all ingredients well together.

Seal the bag and blend the mixture together by squeezing and kneading the bag.

Unseal the bag, starting at the bottom of the bag, roll the mixture to force out any air then seal the bag again.

Insert this bag into a gallon sized plastic freezer bag and place a copy of the recipe into the 2nd bag as well and seal it.

Place your label on the bag or write the name and date on the bag and place in the freezer.

When you want to have this meatloaf for dinner, thaw in the fridge overnight and then:

Preheat oven to 375 degrees.

Place meatloaf in a loaf pan and bake for about 1 hour or until done.
Notes
SERVING SUGGESTIONS: Serve with mashed potatoes, steamed green beans and crusty whole wheat rolls
Note: To save storage space in your freezer, place blended ingredients into a plastic storage bag and roll it up to force out any air, then seal and place in freezer.