Grapefruits come from a subtropical, and surprisingly evergreen, citrus tree. Grapefruits are famous for their pink exteriors, red flesh, tartness on our taste buds, and low-calorie count.
This member of the citrus family is another fruit proud to exhibit high levels of vitamin C. It also contains the important fiber pectin that plays a role in helping to lower cholesterol.
Even the color of grapefruit plays a role in protecting our health. Those sunset-inspired pink and red grapefruits are famous for the antioxidant lycopene which can help protect skin from UV rays and even fight cancer! Lycopene has a stronger presence in the red varieties of grapefruit.
Grapefruit season starts in September and lasts through December. When choosing the right grapefruit while you're grocery shopping, look for these signs: bright color, firmness, absence of wrinkles, heavy for their size, and they'll have a slightly sweet scent to them.
Here's Today's TRICK:
Grapefruits are great in marmalades. That's another perk to having high levels of pectin in the fruit. The pectin allows it to set and thicken faster.
Here's a TIP:
Grapefruit is a surprisingly tasty addition to fresh green or fruit salads! They add that sweet and sour tang that compliments most other produce pairings!
And your RECIPE: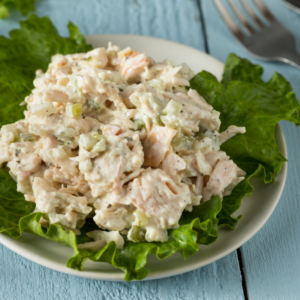 Grapefruit Chicken Salad
Ingredients
1 1/2

cups

grapefruit segments

cut into bite- sized pieces

2

cups

diced cooked chicken breast

no skin

1/4

cup

chopped celery

1/4

cup

red onion

chopped fine

1/4

cup

reduced-calorie mayonnaise

1/4

cup

low-fat plain yogurt

1/4

cup

minced fresh parsley
Instructions
Very easy! Just combine all the ingredients, mix thoroughly, and throw on top of a bed of mixed baby salad greens!