Smoothies? They're fantastic.
I drink one every single day.
Smoothies can pack in a lot of nutrition when you don't have a lot of time to make a full meal.
Now, smoothie bars are popping up ALL over the place, but you can set up your very own smoothie bar at home for a mere fraction of the price.
Here's how:
Equipment. The only piece of equipment you need is a good blender. I adore my Nutribullet, but the brand doesn't matter too much as long as you buy the best blender you can afford. You need to be able to pulverize ice cubes, greens, and nuts to smith-ereens. There's a reason these drinks are called smoothies and not lumpies. Yuck. Oh, that blender should also be easy to clean.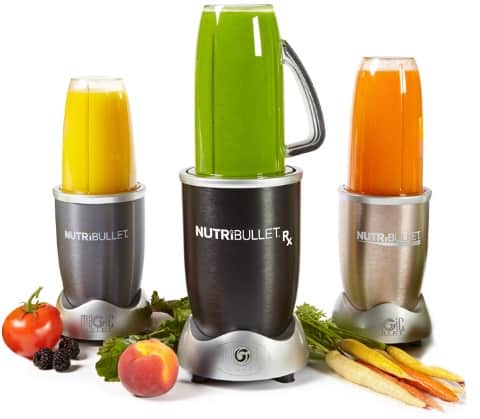 Basic ingredients. You need a good variety of fruit (fresh and/or frozen) and some greens (also fresh and/or frozen) on hand. You also need ice cubes, protein, fiber, and liquids like coconut water, coconut milk, and almond milk. I always have blueberries, strawberries, bananas, spinach, and avocados in the house for my smoothies. When it comes to protein, I only use our Full Bloom Perfect Paleo Protein. Don't bother with the powders full of synthetic ingredients. If you don't have any good protein powder on hand, use nuts or Greek yogurt for that protein punch. I use Saving Dinner FiberMender or chia seeds for my smoothie fiber add-in. And my liquid of choice is always coconut water or unsweetened almond milk.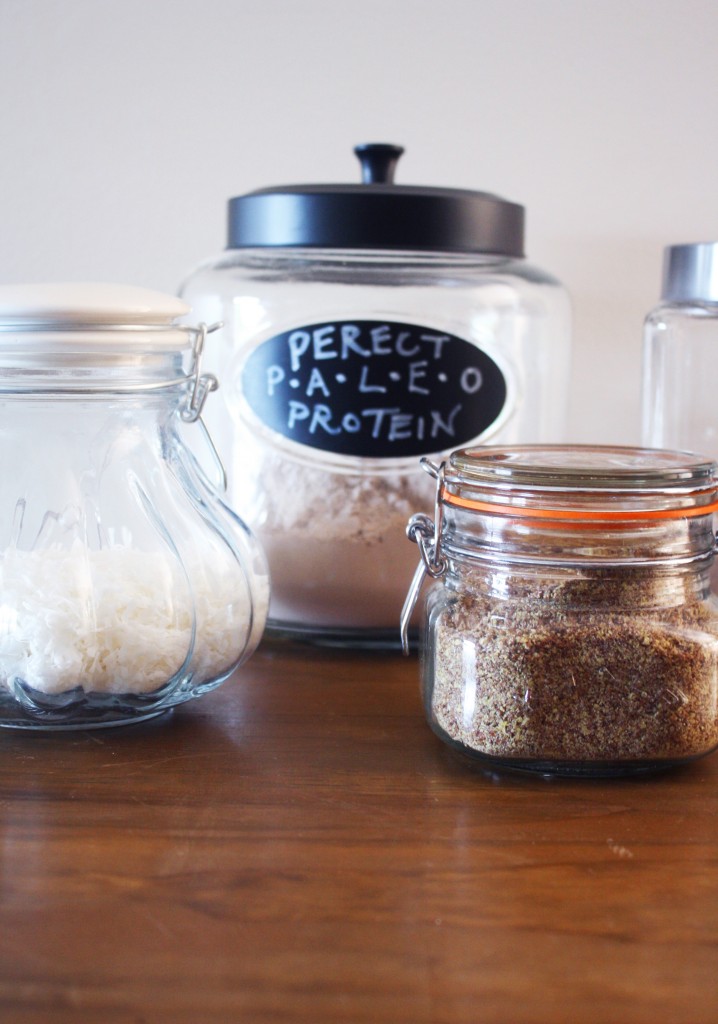 Add-ins. If there are certain things you like to add to your smoothies, keep those items either close to the blender for easy access or with your refrigerated smoothie ingredients. Some ideas for add-ins or flavorings? Ginger root, pumpkin pie spice, coconut oil (sounds crazy but it's a great way to get in some good fat!), and walnuts.
Set up: Have all of your smoothie ingredients located conveniently. You know, so you actually use your home smoothie bar! Put your smoothie ingredients all on the same shelf of the freezer and have a smoothie section in the main area of the fridge. You can also put your pre-measured fiber and protein powder or nuts together in a bag or container so you can save a step by measuring them every single morning. Try taking some time once a week to put your smoothie ingredients in freezer bags (except the liquid and/or ice), so you can just dump all your smoothie stuff in the blender in the morning without having to measure/rinse/scoop.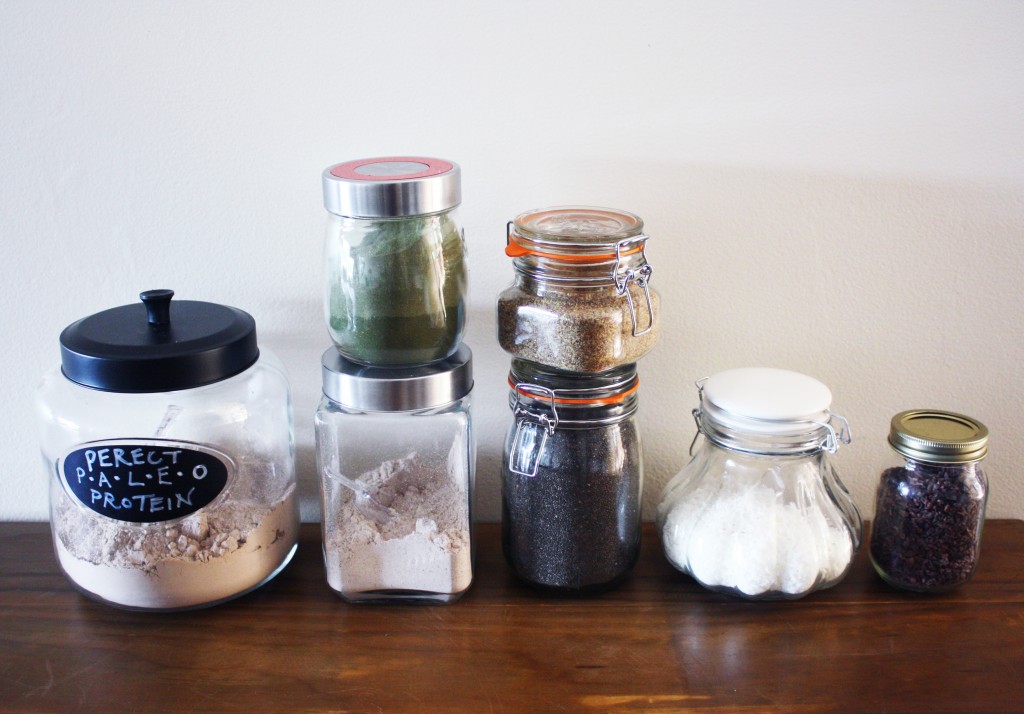 Recipes. You will need some delicious recipes, which should be kept close to the blender. I have you covered there with some of the collections we've put together, and I've added a couple of smoothie recipes for you below.
Smoothie it. Add your liquid first, then put your other ingredients on top. Stuff the blender full of spinach leaves (you won't even taste them). If you expect you'll have trouble with any bitterness of the greens, start with a handful and add more as you get used to the taste.
That should be all you need to get your smoothie bar functioning. Have fun, and bottoms up!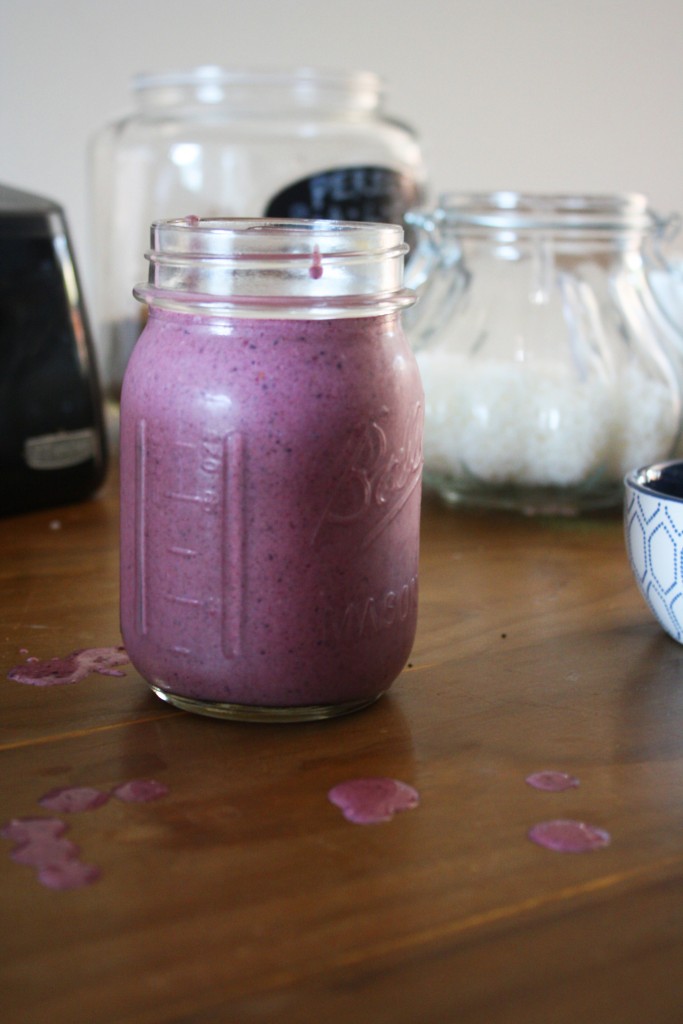 Here are three delicious smoothie recipes.  Enjoy!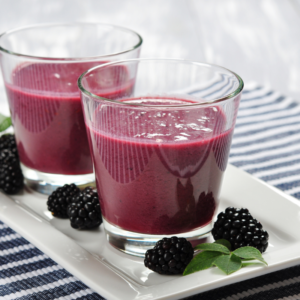 Blackberry Pie Smoothie
Ingredients
1/2

cup

unsweetened coconut milk

1/2 to 3/4

cup

water

or more coconut milk

1/4

cup

coconut cream

1/2

cup

blackberries

frozen or fresh

1/2

cup

spinach

1

tablespoons

chia seeds

1

scoop

Perfect Paleo Protein

1

scoop

FiberMender

optional

1

scoop

Just Juiced Veggies

optional
Instructions
In a blender, place coconut milk, water, coconut cream, blackberries, spinach, chia seeds, Perfect Paleo Protein, Fibermender and Just Juiced Veggies (blend until smooth and enjoy! It's ok to add a tad more milk of your choice, if a thinner smoothie is preferred.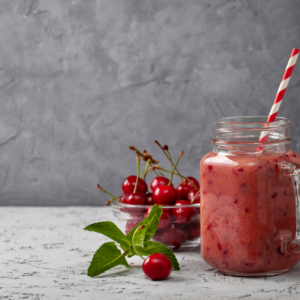 Chocolate Cherry Chip Smoothie
Instructions
In a blender, add all ingredients; blend until smooth and enjoy! For a thinner smoothie, add more unsweetened coconut milk.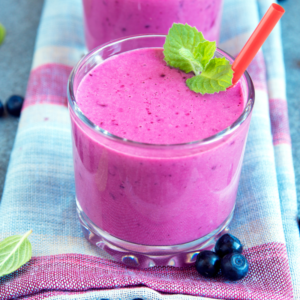 Vanilla Blueberry Smoothie
Instructions
Blend together almond milk, frozen blueberries and ice cubes until almost smooth. Perfect Paleo Protein and Fibermender; blend until combined.