If you're a fan of Middle Eastern food, there's a good chance you've eaten tahini at least once or twice. An essential ingredient in hummus, tahini is a paste made primarily with ground sesame seeds. In Middle Eastern countries, tahini is a common table ingredient.
The flavor of tahini is similar to peanut butter, but it looks distinctively different.
Tahini is a great source of non-animal protein (there are 3 grams of protein in a single tablespoon of tahini). If you have trouble getting in enough protein in your diet, mix tahini with beans and turn it into hummus or dip. When you mix tahini with beans, you make a complete protein that offers all the amino acids your body can't make on its own.
Tahini is also a good source of fat and contains many minerals and vitamins, including:
• Folate
• Niacin
• Thiamin
• Zinc
• Iron
• Potassium
• Copper
• Calcium
• Phosphorous
Look for tahini with the other nut butters in your local supermarket. It isn't a difficult ingredient to find. As usual, buy organic if at all possible!
Now that we're all craving hummus, it's time for your Trick:
Mix tahini with plain yogurt for a yummy (and nutritious) sauce for your next sandwich or salad.
Your Tip:
When you open that jar of tahini at home, you may find that the oil has risen to the top. Be sure to give it a good stir to get those oils added back into the tahini paste. Store your opened tahini in the fridge.
And your Recipe: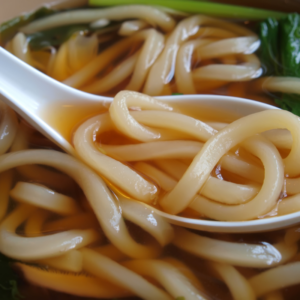 Dan Dan Noodles with Vegetables
Ingredients
3

tablespoons

olive oil

2

cups

packed baby spinach

1

cup

sweet green peas

2

cloves

garlic

minced

2

teaspoons

sea salt

1/2

teaspoon

crushed red pepper flakes

2

tablespoons

freshly grated ginger

3/4

cup

low sodium vegetable broth

2

tablespoons

chili oil

2

tablespoons

red wine vinegar

2

tablespoons

low sodium soy sauce

4

teaspoons

tahini

1

teaspoon

honey

12

ounces

udon noodles

cooked

1/4

cup

chopped roasted peanuts

1

cup

chopped green onions
Instructions
Heat the oil in a large skillet over medium-high heat. Add spinach, peas and garlic; cook until spinach wilts. Add next 10 ingredients (salt through cooked noodles); heat through, gently tossing blend well. Remove skillet from heat; add roasted peanuts and chopped green onions; toss. Serve hot or cold.
Notes
Per Serving: 597 Calories; 24g Fat; 9g Protein; 88g Carbohydrate; 5g Dietary Fiber; 0mg Cholesterol; 1444mg Sodium. Exchanges: 5 1/2 Grain(Starch); 1/2 Lean Meat; 1 Vegetable; 4 1/2 Fat; 0 Other Carbohydrates. Points: 16
—————————————–
PS–speaking of protein, I use Perfect Paleo Protein every day in my morning smoothie!  You can get yours here