Here's today's TRICK:
When handling raw boneless skinless breasts of chicken that need to be cut up for a recipe, make sure it is semi-frozen. That way you'll get a nice firm slice made without the wiggle factor! It's easier and neater this way.
Here's today's TIP:
Make SURE you use a cutting board designated only for your meat and poultry and another one just for your veggies. Try not to intermingle your boards. Also, clean your plastic cutting boards with a little bleach and water and then put them in the dishwasher for extra cleaning. If you have wood boards, you cannot use the dishwasher so hot soapy water and a good rinse will do the trick. One last thing, double-check your plastic cutting boards for lots of cut marks. Too many marks mean they're worn out and could harbor bacteria. Buy them cheap at dollar stores and big-box stores like Wal-Mart and Target. Being safe and clean is a better way to cook!
And your RECIPE: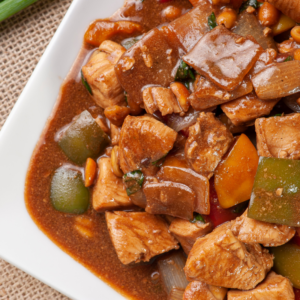 Restaurant Style Chinese Chicken
Ingredients
6

tablespoons

low sodium soy sauce

6

tablespoons

dry sherry

optional

3

cloves

garlic

pressed

3

teaspoons

freshly grated ginger

1

pound

boneless skinless chicken breast halves

cubed

1

tablespoon

olive oil

4

ounces

unsalted roasted peanuts

1

red bell pepper

sliced in strips

3/4

cup

sliced green onions

3/4

cup

low sodium chicken broth

3

teaspoons

cornstarch
Instructions
In a large zipper topped plastic bag, combine soy sauce, sherry, garlic and ginger root. Mush the bag to blend well then add chicken, turning several times to coat. Place bag of chicken in the fridge for at least 30 minutes. While chicken is marinating, chop up your veggies and measure your other ingredients.

In a skillet heat oil over medium high heat. Add peanuts and cook, stirring frequently, until nuts are lightly browned, about 1 minute. Transfer nuts to plate and set aside.

Now cook chicken in the skillet, (reserving marinade) until browned all over, about 2 to 3 minutes. Transfer chicken to the same plate with peanuts; set aside.

Add bell pepper and green onions to skillet and cook over medium-high heat, stirring frequently, until tender-crisp, 1 to 2 minutes. Mix broth and cornstarch to reserved marinade and add that to the skillet. Use a wire whisk to dissolve cornstarch, then add chicken and peanuts.

Cook, stirring constantly, until mixture comes to a boil and thickens about 5 minutes.
Notes
SERVING SUGGESTIONS: Serve atop a bed of brown rice and a tossed green salad on the side.
Chicken freezes GREAT, so stock up when it's on sale and use our freezer meals ebooks to always have dinner on hand!