Snacks to Satisfy Hunger with a Boost
By Leanne Ely, C.N.C.
Most of us love to snack just as much as we love to eat whole meals. The snack industry loves this. And while I fully support snacking as necessary respite when your next meal is hours away, it's important to be choosy about snacks. It's easy to grab any one of those 100 calories snacky packaged foods, but is that really going to satisfy you? Those types of snacks are created to leave you wanting more, sometimes picking up yet another 100 calorie bag and then ending up guilt ridden and still hungry!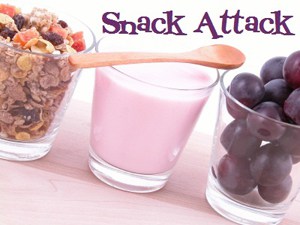 Picking excellent snacks is important. Foods with fiber and protein are crucial–the fiber will fill you up, the protein will sustain you. Fruits and veggies are always good snack sources. Other options: low-fat yogurt and high fiber cereal, half a turkey sandwich on whole wheat bread (my current favorite is turkey wrapped up in a Romaine lettuce leaf with a squirt of Dijon mustard, yum!), red peppers (or any other veggie) and hummus, almonds, and any kind of nut butter with cut up apples–all very satisfying, all helpful when trying to quell a little hunger.
Make your snacking smart–snack as necessary, not as a habit. If you're going to go longer than 3 to 4 hours before your next meal, by all means, enjoy a snack, but make it smart one that will actually alleviate your hunger, not merely entertain your taste buds for two minutes.
P.S. Since I'm always on the look-out for new and yummy things, I just have to share my latest find with you! I recently tried a new energy bar called loAdebar (Loaded Energy Bar. . .get it?) and it was AMAZING! Not only was it super tasty, but it's chock full of natural, certified organic ingredients. Nothing processed in these puppies! Ya'll have to try these – go to http://www.loadebar.com/www and check them out for yourself!