There is nothing quite like the right appliance doing the right task. Take my pasta maker for example. Yes, you can take it—I don't use it. But touch my crockpot? You and I are going to have issues. I love my crockpot!
But right now, my crockpot is my second best friend. My BFF (best friend forever) is my freezer—my lovely, icy friend, the freezer.
My freezer holds dinners in it, lots of them. Not the kind that Stouffers or any of those other guys make, dinners that I made all at one time. I guess you could say I've been sucked in by the latest trend—the dinner assembly franchise.
The only difference is I do it myself. I've always been a do-it-yourself type and that certainly applies to cooking.  And considering that I am The Dinner Diva, I adore great food—especially when it's easy-button easy.  Lately, though, I've been very busy–traveling, writing, and trying to juggle everything at once. So what's a busy Dinner Diva to do?
Make it all at one time, put it in the freezer, and pull out my handy-dandy, ready-to-go dinners from the freezer in the morning, and voila, dinner is a snap that night. I can't tell you how fun this is! So how does this work, you ask? Here's the low down on how you can do it yourself, too:
1) Make up a list of recipes that you like—say 10 at one time.
2)    Make sure they will freeze well. You will want to skip stuff with hard-boiled eggs in them and boiled potatoes. They don't do too well with freezing.
3)    Don't fully cook any pasta dishes—they will be watery, overcooked, and yucky by the time you thaw and eat them.
4) Make up your grocery list. I do mine in categories like the grocery store; dairy, meat, produce, canned goods, etc.
5)    Assemble your meals in stations: have all your produce chopped and prepped, your other stuff measured, and lastly, your freezer quality zipper-topped bags ready to handle your assembled meal. Don't forget to mark the bag and date it (use a Sharpie so the ink won't run)
See how easy that is? I've shown you how to do it yourself so you don't need an expensive franchise place anymore. I also have a freezable example recipe for you to try.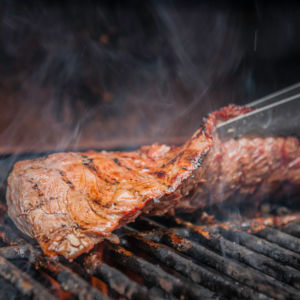 Caribbean Steak
Ingredients
4

tablespoons

honey

1/4

cup

lime juice

2

tablespoons

vegetable oil

1

tablespoon

mustard

2

cloves

garlic

pressed

1/4

teaspoon

lime zest

Salt and pepper

to taste

1 1/2

pounds

lean top round steak
Instructions
In a 1 gallon freezer bag combine all ingredients.

Gently and carefully squeeze the bag to force out any air then seal the bag. Insert this bag into a gallon sized plastic freezer bag and place a copy of the recipe into the 2nd bag as well and seal it. Place your label on the bag or write the name and date on the bag and place in the freezer.
DAY OF COOKING:
Once your steaks have thawed (we suggest putting the frozen steaks in the fridge the night before you want to use them or that morning—never thaw at room temperature), preheat your barbeque grill. Add the steaks to the grill and cook to desired temperature. Serve with steamed broccoli and baked potatoes for a simple meal.