Have you spotted one of those pretty star-shaped spices at the health food store and wondered what you could do with it if you brought it home with you?
Star anise is a beautiful flavoring spice. The fruit of an evergreen tree native to southern China, it gets its name from its star shape (the brown star anise pod has eight arms).
Star anise is sweet and has a slight licorice-like flavor. It is a key ingredient in Chinese five spice powder (along with fennel, cinnamon, cloves, and Sichuan peppercorns).
Generally an ingredient in savory dishes, star anise can be used in its whole form to lend flavor to a long slow simmer or braise. Most often, the star anise pod is discarded before serving. You can also use star anise in powdered form, which is a more versatile way of using this spice.
As with most spices, star anise is packed with potent medicinal properties.
Star anise contains an essential oil called anethole. It's anethole that gives star anise its licorice-like taste and it also happens to have an anti-bacterial effect on the body. Anethole has been shown to prevent the growth of both Staphylococcus and E. coli. This anethole compound also has anti-fungal, anti-oxidant, and anti-inflammatory properties.
Star anise also has anti-viral properties. In fact, an ingredient in the Tamiflu drug is extracted from star anise.
So, now that we can agree star anise has more going for it than looks, it's time for your Trick:
Try using star anise in your slow cooker with a nice cut of beef. Add a little bone broth, some coco aminos, a few peppercorns, a star anise pod, and some sliced onions. Let that cook away all day and you will be treated to an amazingly intensely flavored meat dish that will knock your socks off.
Tip:
Purchase star anise in its whole form and grind as needed. Ground star anise is extremely potent, so don't go overboard.
And your Recipe: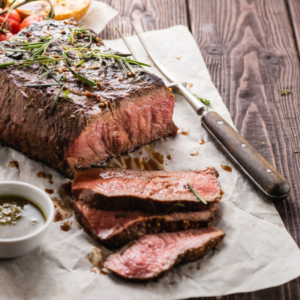 Crock Asian Beef Roast
Ingredients
2

pounds

beef round roast

1

cup

coconut aminos

2

cups

low sodium beef broth

or use homemade

1

tablespoon

onion powder

1

tablespoon

garlic powder

1/4

cup

chopped cilantro

4

star anise

1

tablespoon

Szechuan peppercorns

or use black peppercorns

2

medium

onions

sliced

1

pound

green beans

trimmed
Instructions
Place first 9 ingredients (roast through onions) in a crock cooker; add enough water to cover roast.

Cover and cook on MEDIUM-HIGH heat for 4 to 5 hours or until roast is fork-tender.

Meanwhile, steam green beans until tender-crisp; serve with sliced beef and top with a little of the cooking juices, as desired.
Oh, speaking of long, slow cooking methods, before we let you go, we must remind you that we have some fabulous Crock Cooker Menus. Grab the details here!