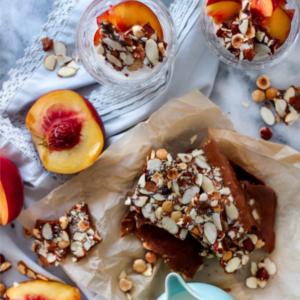 Stone Fruit with Almond Hazelnut Chia Seed Brittle and Vanilla Bean Coconut Cream
Late summer is code for: STONE FRUIT!!! This incredibly delicious recipe is layered in multiple textures, the perfect level of sweetness, and has the edge of refreshment necessarily during the warm summer days. The best part? It's 100% Paleo-Approved!
Ingredients
2

tablespoons

chia seeds

1/2

cup

chopped OR slivered almonds

1/2

cup

chopped hazelnuts

1/2

cup

unsalted grass fed butter

(1 stick)

1

cup

pure maple syrup

1 1/2

tablespoons

coconut sugar

1

teaspoon

vanilla extract

1

teaspoon

baking soda

1 1/2

cups

canned full fat coconut milk

shaken well so fat and water doesn't separate

1

whole

vanilla bean

OR 1/2 teaspoon vanilla bean paste halved length-wise and scraped

1

pound

stone fruit of choice

we used peaches and nectarines - but it's also excellent with cherries, plums, apricots, pluots, cherries, etc
Instructions
Line a small baking sheet with parchment paper, and evenly scatter the chia seeds, almonds, and hazelnuts. Keep them relatively close together so there isn't a lot of negative space in between.

In a medium sauce pan, over medium heat, add butter. Once melted, add in maple syrup and coconut sugar. Whisk together well.

Using a candy thermometer*, bring mixture to about 300 degrees, then remove from heat and quickly whisk in vanilla extract and baking soda. Once thoroughly combined, immediately pour mixture over the scattered chai seeds and needs, using a spatula to evenly cover all of them.

Place in freezer for about 45 minutes, or until it sets and hardens

While waiting on the brittle to set, prepare the coconut cream.

In a small pot, over medium low heat, add full fat coconut milk. If the water and coconut fat have separated, DO NOT add the water! Just get the creamy good stuff! Once it thins slightly over the heat, add in the vanilla bean. Whisk together and remove from heat (DO NOT LET IT BOIL).

Then slice the stone fruit and distribute them to small bowls or plates.

Pour coconut cream over the top of the fruit, and top with a couple pieces of the finished brittle. enjoy!
Notes
If you don't have a candy thermometer, keep the mixture boiling over medium heat for about 3 to 5 minutes, until it starts smelling slightly of burnt sugar and becomes really really thick.
Subscribe to Dinner Answers today for more delicious Paleo recipes!