Sunflower seeds are a staple in my house. I sprinkle them over my salads, toss them in my smoothies and I even add them to my eggs sometimes to change things up a little.
Sunflowers were one of the first plants to be cultivated in the US. Over 5000 years ago, Native Americans were using sunflower seeds (the fruit of the sunflower) as a food source and using the stems, roots, and petals for dyes and other purposes.
When I'm talking about eating sunflower seeds, let's be clear that it's what's inside of those black and white tear-shaped shells I'm talking about. Please be kind to your gut and don't try eating those outer coatings. Yikes!
Not only are sunflower seeds a wonderful quick snack, but they are one of the most nutrient-dense seeds you can find.
Have you ever seen a stressed-out chickadee? Me neither. Maybe that's because they eat so many sunflower seeds. Sunflower seeds are an excellent source of magnesium, which regulates muscle and nerve tone, lowers blood pressure, reduces the severity of asthma symptoms, and helps prevent heart attack, stroke, and even migraines.
Sunflower seeds are an excellent source of selenium and Vitamin E. Sunflower seeds have anti-inflammatory properties, and they can help lower cholesterol as well.
Now that you're ready to fight the birds for that serving of sunflower seeds, it's time for your Trick:
If you're harvesting sunflower seeds from your garden (I see no other reason why you would get them in the unshelled form), save your fingernails and husk them the easy, painless way. Simply grind the whole seeds in a seed mill, and then dump the works in a bowl of cold water. The shells will float to the top. What? You don't have a seed mill? Pulsing with an electric mixer, coffee grinder, or food processor will do the trick. Just don't pulse until the seeds are completely pulverized.
Your Tip:
Finely ground sunflower seeds make a wonderful, tasty alternative to wheat flour in breading for chicken or meats.
And your Recipe: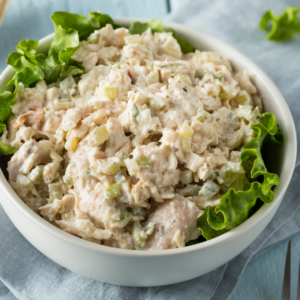 Everything Chicken Salad
Ingredients
2

free range chicken breasts

cooked and cubed

3

hardboiled organic cage free eggs

peeled and diced

1

head

Romaine lettuce

torn into bite-sized pieces

1/2

cup

black olives

1/4

cup

mayonnaise made with olive oil

1/2

cucumber

diced

1

tomato

seeded and chopped

1/2

cup

sunflower seeds

1/4

teaspoon

sea salt

Freshly ground pepper

to taste
Instructions
In a large bowl, combine all of the ingredients. Put in the fridge and chill for 30 minutes. Serve with a small fruit salad for a complete meal.
For more delicious recipes like this, subscribe to Dinner Answers today!