Honey is the magic produced inside beehives and coveted by people and bears alike; there's really nothing like it in the world. Honey is one of the few sweet foods in life that has huge health benefits.
Just like coconut milk, honey is an antiviral, antifungal, and antimicrobial substance. This comes from the bee propolis (the stuff bees produce to "glue" cracks etc. in the hive and keep it secure) which in turn becomes deposited into the honey.
Honey contains certain phytonutrients that are anticancer and tumor prevention. How's that for some sweet news?
Here's today's TRICK:
Got allergies? Try a teaspoon a day of local honey to keep the allergies at bay. The theory behind the local honey is the very pollens that are bothering you will end up in the local honey you ingest, thereby inoculating you as if being vaccinated against the local allergens.
Personally, this has worked miracles for me and I do suggest you try it!
And here's a TIP:
If you can't find local honey, click HERE to check out the National Honey Board's locator and follow the directions. You'll find it!
And your RECIPE:
(from our fabulous Dinner Answers Low-Carb menu)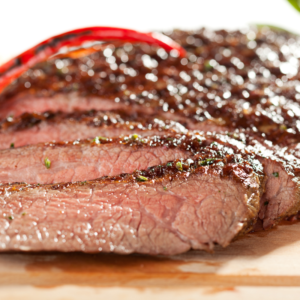 Sesame Beef Steaks
Ingredients
1/4

cup

soy sauce

1

tablespoon

honey

1

tablespoon

sesame seeds

2

green onions

chopped

2

cloves

garlic

pressed

1

teaspoons

freshly grated ginger

Pepper

to taste

1 1/2

pounds

flank steak

cut into four even-sized pieces

1

tablespoon

olive oil
Instructions
Prepare marinade by whisking together soy sauce, honey, sesame seeds, green onions, garlic, gingerroot and pepper.

Place marinade in large gallon size re-sealable style plastic bag. Add flank steak. Marinate in refrigerator overnight or for at least 4 hours.

In a large skillet, heat oil over medium high heat; place beef in skillet. Discard marinade. Cook beef until desired doneness.
Notes
LC SERVING SUGGESTIONS: Faux-tay-toes (steam a head of cauliflower till tender; add butter, cream cheese and salt and pepper; mash till you get a mashed potato texture), sautéed snow peas and a big salad.
SERVING SUGGESTIONS: Add garlic mashed potatoes.
KOSHER: None needed.
Are you a fan of this sweet food?
PS–You can receive delicious menus (complete with shopping lists!) like this delivered right to your email inbox by subscribing to Dinner Answers today!