Molasses is a by-product of sugar making. Molasses is what is left when the sugar is separated from the juice from the sugar cane. There are three grades of molasses: light, dark, and blackstrap.
Here's today's TRICK:
When using molasses, lightly grease whatever you're measuring it in so it doesn't stick and drops out easily with no sticking.
And here's a TIP:
Blackstrap molasses are full of B vitamins and are good for you. Look for them in the grocery store, keep the jar closed up in a dark pantry and it will last a good long time.
And your RECIPE: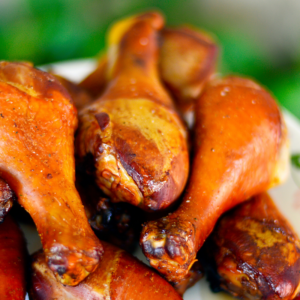 Crock Chicken Drumsticks
Ingredients
8

skinless chicken drumsticks

8

ounces

chili sauce

this is by the ketchup in the grocery store

2

tablespoons

lemon juice

1 1/2

tablespoons

molasses

2 1/2

teaspoons

Worcestershire sauce

1 1/2

tablespoons

salsa

1 1/2

teaspoons

chili powder

1 1/2

teaspoons

garlic powder

sea salt and freshly ground black pepper

to taste
Instructions
Place chicken in a slow cooker.

In a small bowl, combine remaining ingredients; pour over chicken.

Cover and cook on LOW for 8 hours.
Notes
LC SERVING SUGGESTION: A big bowl of broccoli slaw (use a ready-made mix and toss with low fat mayo and a little rice vinegar).
SERVING SUGGESTION: Add buttered corn on the cob.
KOSHER: Use vegetarian Worcestershire sauce.
GLUTEN FREE: Make sure chili sauce, molasses, Worcestershire sauce, and salsa are gluten free.
PS–You can receive delicious menus (complete with shopping lists!) like this delivered right to your email inbox by subscribing to Dinner Answers today!