Pomelo fruits are in season between December and April, so it won't be long before you see them popping up more often.
These citrus fruits are larger than grapefruits (they are actually the largest members of the citrus family), with a sweet and floral flavor and a pale green yellow color.
It's believed that grapefruits are a hybrid of pomelo and orange. This is curious because pomelos and oranges are on the sweet side, but they somehow managed to produce bitter-tasting grapefruit!
Like other citrus fruits, pomelo is a good source of fiber and Vitamin C.
Random things you might not know about pomelo:
According to Chinese culture, pomelo leaves are spiritually cleansing because they belong to the sacred pomelo tree. In fact, it's tradition to soak in a bath containing pomelo leaves after attending a funeral.
This is supposed to keep bad spirits away!
Pomelo acts as a natural air conditioner. One of these pretty orbs in your fruit bowl will give your house a lovely fresh scent.
Now that you're ready to rush out to the fruit stand for a gorgeous pomelo, it's time for your Trick:
There's nothing quite like a disappointing fruit. To ensure that your pomelo is nice and juicy, rather than dry and shriveled up, pick it up. It should seem quite heavy for its size. The best pomelo fruits come from Tambum in a district of Malaysia, famous for its pomelo. Try to find pomelo with the Tambum pedigree for some of the loveliest tasting citrus fruit you'll ever encounter.
Your Tip:
You can use the skin of the pomelo fruit in savory dishes and in teas. Use a vegetable peeler to remove the skin from the pomelo (leave behind the white pith) and hang onto it for recipes requiring citrus zest.
And your Recipe: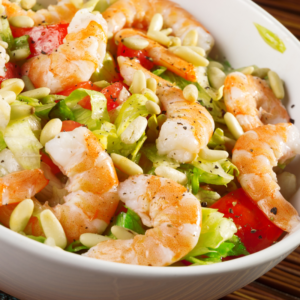 Thai Pomelo and Shrimp Salad
Ingredients
SALAD:
1

pomelo

12-16

medium

shrimp

peeled

1

medium

cucumber

diced

1

red pepper

diced

1/4

cup

purple onion

finely chopped

1/4

cup

fresh mint

chopped

1/4

cup

fresh cilantro

chopped

1/4

cup

dry-roasted unsalted cashews

1/2

cup

of mixed salad greens
DRESSING:
1/3

cup

fresh-squeezed lime juice

3

Tablespoons

fish sauce

1

Tablespoon

coco aminos

2

Tablespoons

honey

1/3

teaspoon

chili flakes
Instructions
DRESSING:
Stir together lime juice through chili flakes until well mixed.
SALAD:
Set a pot of water to boil on the stove.

Add shrimp and boil just a few minutes, until shrimp turns pink and plump and firm to the touch.

Drain and set aside to cool.

Peel Pomelo and cut into bite sized chunks.

Add cucumber, red pepper, onion, mint, cilantro, cashews, salad greens and cooled shrimp.

Toss with dressing.
For more delicious recipes, subscribe to Dinner Answers today!