A page from my journal…
I had a moment today that caused me to stop everything I was doing and come upstairs to write.
I'm in the midst of packing for a move (ugh) and well, you know how that goes and how much there is to do (always).
Anyway, I'm listening to a speaker on my phone as I'm shoving stuff into boxes and she says,
"The only way to consciously deactivate a thought is to activate another. In other words, the only way to deliberately withdraw your attention from one thought is to give your attention to another."
I had been feeling sorry for myself because I didn't want to move, I was preoccupied with all the things I didn't have in that moment, and as you can tell, gratitude was not a part of my thought process at all.
I thought about what she said about giving my attention to something else and stared down at the washing machine. I had several magnets on the washer (they wouldn't stick to my fridge) that I've collected over the years that had meaning to me, but didn't give them a second thought because, well, there they are on the washing machine, below eye level.
I looked at each magnet as I pulled them off to pack them. See the picture below: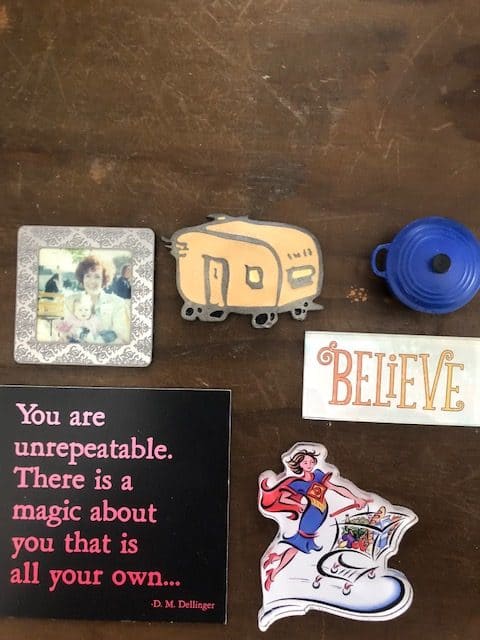 There are two magnets I have that were my Mom's: the magnet on the left is one I gave her in a birthday card a long time ago and she kept it on her fridge forever. The other one is the little trailer (peach colored) that I gave her when she bought her mobile home at the beach over 30 years ago.
Two dear friends sent me magnets of encouragement–the one that says You are unrepeatable. There is a magic about you that is all your own…and the Believe magnet.
There's tiny little picture of my Mom holding Caroline who had just turned one year old–I love that picture of both of them.
Then there's the Dinner Diva magnet that we used to sell so many years ago and a Le Creuset Dutch oven magnet that reminds me of all the wonderful sponsors I've had in the last 18 years.
Tears flowed–gratitude tears. Tears of love for family, friends, home and mission to help women.
And at that moment, I realized I had the ability to deliberately withdraw my attention and deactivate one thought and activate another.
Everything changed in that moment and the power of my thoughts became so evident, so crystal clear, so powerful.
I just wanted to share that with you because your thoughts are powerful, unbelievably so and yes, what you think about, you bring about.
With so much love,
Leanne