One of the most nutritious berries on the block is in season right now! Yes, it's time to sing the praises of the small but mighty blueberry with a trick, tip, and a great recipe to try out!
Blueberries are one of my favorite superfoods. There is so much goodness within those deep blue or purply skins that it's hard to imagine how it all fits in there.
With only 80 calories per one-cup serving, blueberries contain a tremendous amount of vitamin C, fiber, and manganese. In addition, their deep blue color is an indication of the fact that they are rich in antioxidants as well.
Blueberries can be found frozen or fresh. And did you know that fresh berries have been hand-picked while frozen berries have been machine processed? Either way, they carry the same fantastic nutritional profile so you really can't go wrong.
Now for your Trick:
If you can, buy organic blueberries. Blueberries are in spot 14 on the Environmental Working Group's list of vegetables and fruits with high amounts of pesticides. They have been on the Dirty Dozen list in the past, but they seem to have dropped off. In any case, that isn't quite good enough for me and I prefer to buy organic. I would advise you to do the same!
Your Tip:
Blueberries are great in smoothies (if you want to hide the color green in your spinach smoothies, toss in a handful of blueberries), on salads, and sprinkled on half of a cantaloupe or honeydew melon for a beautiful-looking breakfast.
And your Recipe: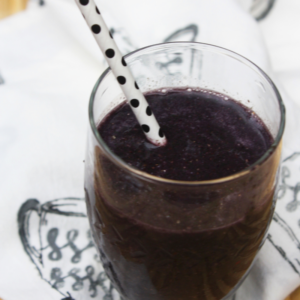 Blue Super Smoothie
Ingredients
1/2

cup

unsweetened almond milk

1/2 to 3/4

cup

water

or more almond milk

1/4

cup

blueberries

frozen or fresh

1/4

cup

peaches

frozen or fresh

1/2

cup

spinach

1

tablespoon

chia seeds

1

scoop

Perfect Paleo Protein

1

scoop

Fibermender

optional

1

scoop

Just Juiced Veggies

optional
Instructions
In a blender, place almond milk, water, blueberries, peaches, spinach, chia, Perfect Paleo Protein, Fibermender, and Just Juiced Veggies (optional); blend until smooth and enjoy! It's ok to add a tad more milk of your choice, if a thinner smoothie is preferred.