Almonds are thought of as a nut, but in reality, they aren't a nut at all; almonds are seeds. This means these little gems are packed full of all the things needed to grow a whole tree–talk about a powerhouse of nutrition!
A handful of almonds makes an excellent snack. Inside each little seed package, you have healthy fats, calcium, magnesium, vitamin E, and phytonutrient compounds that are thought to protect against cancer and cardiovascular disease.
Here's Today's TRICK:
To remove almond skins just soak them in hot water for 15 to 20 minutes and the skins will come right off.
Here's a TIP:
Recent studies suggest almonds may cure migraines! Next time you feel a migraine coming on, try eating 10-12 almonds and see if it helps. I'd love to hear if this works for you!
And your RECIPEs: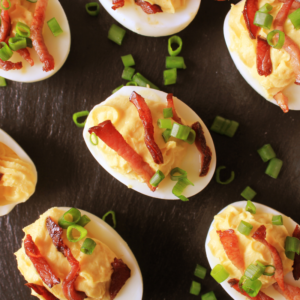 Chutney Deviled Eggs
Ingredients
12

organic Eggs

hard boiled

1/4

cup

Savory Mango Chutney

see recipe below

6

slices

nitrate free bacon

cooked, drained, crumbled

3

tablespoons

low fat mayonnaise

1

tablespoon

almonds

chopped
Instructions
Cut hard boiled eggs in half lengthwise, remove yolks, reserve in a medium mixing bowl, and mash. Set aside egg whites for filling. To make filling add the rest of the ingredients to mashed egg yolks, mix well. Fill the egg whites with the mixture.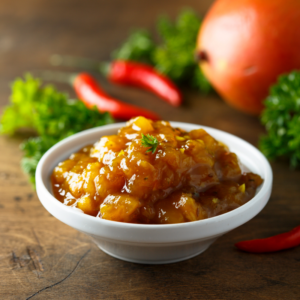 Savory Mango Chutney
Ingredients
4

mangoes

peeled, seeded, julienned

1

inch

fresh ginger

chopped

3

cloves

garlic

peeled

2 1/2

cups

white sugar

1

teaspoon

sea salt

1/2

teaspoon

red pepper flakes

1

teaspoon

cumin seed

2

cardamom pods

4

cardamom seeds

1

3-inch

cinnamon stick

4

whole cloves

1

cup

distilled white vinegar

5

black peppercorns

crushed
Instructions
In a large pot place the mangoes, stir in chopped ginger and garlic, sugar, salt, red pepper flakes, cumin seed, cardamom pods and seeds, cinnamon stick and cloves stirring well. Cover the pot and let sit out all night long. In the morning heat the pot over medium heat, cooking and stirring occasionally for about 30 minutes, until the mixture begins to thicken. Stir in the vinegar and peppercorns, cook for one more minute, remove the cloves and cinnamon stick, cool before using.