If you haven't heard of chia seeds yet, trust me you were bound to hear of them sooner or later. They're rising stars quickly earning the title of becoming the next big "superfood." Yes, they're exactly the same seed you remember from ch-ch-chia pet commercials, the only difference is they're fit for human consumption and aren't agricultural grade.
A naturally gluten-free food, chia seeds are one of those foods that are bursting at the seams with health benefits: omega-3 fatty acids (gotta love 'em), protein, fiber, antioxidants, and calcium reside in these tiny seeds.
Here's Your TIP:
If you're trying to lose a little weight, consuming chia tends to outline and coat your stomach, preventing too many calories from being absorbed – an excellent dieting aid!
Here's Your TRICK:
These handy little seeds can also hold ten times their weight in water and have a very neutral flavor allowing them to be a great and beneficial addition to most of your dishes–I add them to smoothies all the time.
And for Your RECIPE: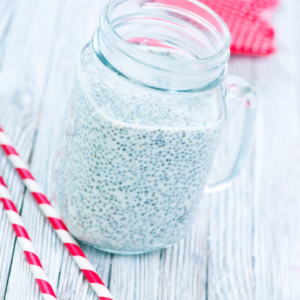 Chia Milk
Ingredients
5

tablespoons

raw chia seeds

1 1/2

tablespoons

raw walnuts

5

cups

water

divided

2

tablespoons

raw tahini

2 1/2

tablespoons

raw, local honey

1/2

teaspoon

pure vanilla extract
Instructions
Soak chia seeds and walnuts in 3 cups of water overnight. Then add them to a blender and add another cup of water before beginning to blend them on a medium speed. Now add the rest of the ingredients, including the last cup of water, and continue to blend. You want to make sure it's smooth so blend until it's noticeably a silky consistency.
Notes
(A great alternative for anyone lactose intolerant and trying to avoid soy! Revised from a similar recipe found at rawfoodhealthwatch.com)