Apples are one of my favorite snack foods because they're delicious and a low-maintenance fruit to bring wherever you go. No peeling, all you have to do is pick them up and bite into them. But I'm going to talk about one type of apple in particular: Honeycrisp apples, my very favorite. Even the name of this apple sounds yummy, but what's even more enticing are the health perks!
These refreshing fruits have a full flavor of sweet and tart and a lot of juice packed into one bite. The benefits of biting into one of these produce gems are the fiber and vitamin C, even in the skin, so don't disregard the peel! According to livestrong.com, there's just as much fiber in one of these apples as there is in a bowl of bran cereal; which is great because it'll fill you up, satisfying your hunger for a reasonable period of time!
Remember though, organic apples are the way to go! You don't need all those pesticides!
Here's Your Tip:
To keep apples from browning after cutting into them, rub the flesh of the fruit with lemon juice.
Here's Your Trick:
This year, when you make apple pie, try using half Honeycrisp and half the traditional Granny Smith and you'll use less sugar!
And Here's Your Recipe: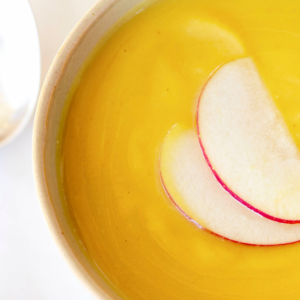 Apple Autumn Soup
Ingredients
1

tablespoon

olive oil

1

large

onion

chopped

1

stalk

celery

chopped

1

tablespoon

curry powder

Sea salt and freshly ground black pepper

to taste

2

large

Honeycrisp apples

peeled and chopped

1

bay leaf

6

large

carrots

peeled and sliced

4-5

cups

organic chicken broth

measurement pending on your desired thickness
Instructions
First heat oil in a medium soup pot over medium heat and cook onion and celery until onion is transparent.

Add seasoning (curry, salt, pepper), and apples, bay leaf, and carrots. Stir for about 3 minutes and then add broth. Bring to boil, then allow to simmer for nearly 30 minutes or until carrots and apple are soft.

Remove bay leaf, and puree the soup in a food processor to give it a clean and smooth texture and taste. If you really want to explore your taste buds, try garnishing with a dash of cinnamon!