Not a true berry, juniper berries are actually the scales from the cones produced by juniper trees. Fragrant, spicy, and piney, Juniper berries are the kick and flavor behind gin, believe it or not. And in nutrition circles, these little gems get high marks for digestive help, vitamin C, iron, and magnesium.
Here's Today's TRICK:
Dried crushed juniper berries add a nice punch to any kind of game, lamb, duck, or fowl. Try melting 1/2 cup of butter and adding a teaspoon of crushed dried juniper berries and place in the cavity of your bird—great flavor!
And here's a TIP:
Juniper berries are additionally used as a supplement for diuretic purposes and to treat bladder infections. There is also a toxicity warning that comes with juniper berry usage (study conducted by North Carolina State University), so using juniper berry supplements should be discussed with your health care professional before using and should never be used if you're pregnant or nursing.
And your RECIPE: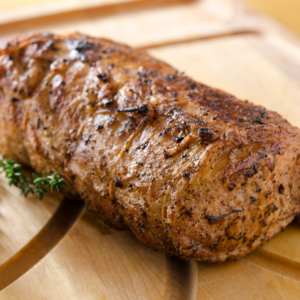 Juniper Berry Pork Loin
Ingredients
1 1/2

cups

sugar

1 1/2

cups

kosher salt

1 1/2-2

quarts

water

4

cloves

garlic

pressed

6-8

juniper berries

crushed

1

teaspoon

thyme

5-6

pound

pork loin

2/3

cup

olive oil

3

cloves

garlic

peeled and chopped

1/2

teaspoon

thyme

1/2

teaspoon

rosemary
Instructions
First make a brine. In a medium saucepan, mix together first six ingredients on the stovetop. Stir until sugar dissolves; allow to cool. Add your pork loin to the mixture. Meat should be just covered, add water if necessary and refrigerate for at least a day; two days is better.

Remove pork from brine and wipe with paper towels and allow it to come to room temperature. In the meantime, oil grill and heat to medium-high heat. In a medium-sized bowl, stir together oil, garlic, thyme, and rosemary and brush on your brined pork.

Place pork on the grill and turn down to low. Turn to sear on both sides then only turn occasionally. Cook to an internal temperature of 140 degrees to 145 degrees. Let rest 15 minutes before carving.