All together now, let's hold hands, sway and sing: "Let there be peas on earth and let it begin with me…" What? Not that kind of peas, its peace? Oh well. Don't shoot me for trying! LOL Let's talk about peas then—they're in season right now and wonderful!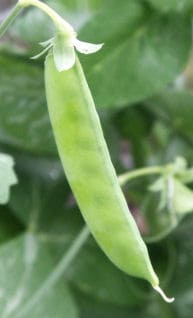 (In fact, this picture was taken from Nikki's (from our Saving Dinner Team) garden just a few weeks ago! Of course, she's in Arizona so they get their peas a bit sooner than most of us.)
Peas are a good source of B vitamins, vitamin C, iron, and vitamin K.
Good in stews, soups, pasta and (my favorite) chicken pot pie, peas are versatile and delicious, especially when you use today's tips and tricks!
Here's today's TRICK:
Remember peas rolling around on your plate as a kid? I bet you hated them and probably for good reason; they were mealy and starchy. Buy frozen baby peas; the keyword here is BABY. Those are the delicious ones you'll love to eat!
Here's a TIP:
Got a teething baby? Put some frozen baby peas on his highchair tray and let your baby practice his pincher skills. He'll enjoy the cold on his sore gums and he'll be getting good nutrition too!
And your RECIPE: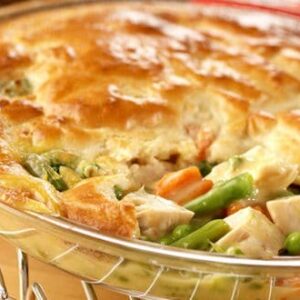 Leanne's Amazing Chicken Pot Pie
This is the Mama of all mama foods–comfort food that totally hits the spot, especially on a cold, winter night. The flavor is greatly improved by baking the chicken and deglazing the pan, but any cooked chicken will work.
Ingredients
5

cups

chicken

cooked and chopped

1

medium

onion

chopped

3

carrot

chopped

1/2

stalk

celery

minced

3/4

cup

frozen peas

use petite peas, big diff.

2

cups

chicken broth

homemade or canned

2

tablespoons

whole wheat pastry flour

2

tablespoons

unsalted butter

1

teaspoon

garlic powder

2

teaspoons

thyme

Salt and pepper

to taste

Pie crust

make it or buy it enough to cover a 9 x 13 pan
Instructions
In a large skillet, melt 1 tablespoon of the butter (or more if you need it) and saute onion, carrot and celery all together for about 5 minutes, till they are wilted. Salt and pepper to taste.

Add chicken to the mixture and toss well. Season with garlic and thyme. Pour into a bowl and set aside. In the same skillet melt the remaining butter, add flour and whisk over medium heat for about 3 minutes. Add chicken stock and cook, constantly whisking it in the pan until thickened.

Pour gravy over the top of chicken mixture and mix well. Add frozen peas and mix again.

In a 9 x13 pan, pour chicken mixture and top with crust. Make some slits for steam to escape.

Bake for 20 to 30 minutes in preheated 375 degree oven. Watch your crust–when it's browned nicely (not too brown–it will continue to cook a minute or two once it comes out of the oven) pull it out.
Notes
Make sure you mince the celery. People get hostile when they see big chunks of celery in their pot pies. Reminds of the days when my mom would open up a can of canned chop suey, those great big hunks of celery–ugh.
Deglazing a pan involves adding water to a pan that has cooked chicken and there is drippings and stuck stuff on the bottom of it. That stuff is cooking gold and adds unbelievable flavor to whatever you are cooking. You should get into a habit of always deglazing your pan and adding that to your chicken broth. For example, in this recipe, if you had about a cup of deglazed liquid, you could add reduce the amount of chicken broth by half and use half chicken broth and half deglazed liquid.