It is rhubarb season and these cool-season perennial plants are standing about 5 inches tall in gardens throughout Canada and the Northern US now.
Though it quite resembles celery, this red stalky fruit is…well…actually a fruit. An extremely tart fruit, but fruit nonetheless. Also important to note is that rhubarb leaves are toxic. Do not eat them.
Rhubarb can last even the harshest of winters and the driest of seasons. You'll spot it poking up out of the ground around the same time as the tulips in the spring.
This stalky fruit contains quite a bit of nutrition. It's an excellent source of calcium, lutein (good for your eyes and your skin!), antioxidants, and vitamin K.
You'll find rhubarb stalks sold at farmers' markets and in grocery stores, usually in two-pound bunches. You'll yield about 3/4 of a cup of cooked rhubarb from a pound of stalks.
While it's most commonly used as a pie fruit, you can also dehydrate rhubarb in a low, slow oven for a natural fruit leather. Rhubarb does need a little bit of sweetening before it's delicious but with some honey and strawberries, it makes a delicious tangy fruit crumble. Boiled and topped with honey it's also a great new fruit to add to a bowl of oatmeal or quinoa.
If you live in a cooler climate and you'd like to grow your own rhubarb, now's the time to plant some rhubarb roots. You need good fertile soil and good drainage. Next spring, you'll be able to harvest it. Rhubarb plantings are productive for anywhere from 8 to 15 years so after you've established your crop, you'll have it for years to come!
Now that everyone's ready for rhubarb, it's time for your Trick:
When you bring your rhubarb home from the store or in from the garden, remove the leaves and store the stalks in plastic bags in the fridge for up to three weeks.
Your Tip:
To freeze rhubarb, cut your stalks into bite-sized pieces and freeze them in a single layer on a cookie sheet so that they don't freeze together in a large chunk. This way you can take out what you need through the winter to add to your recipes.
And your Recipe: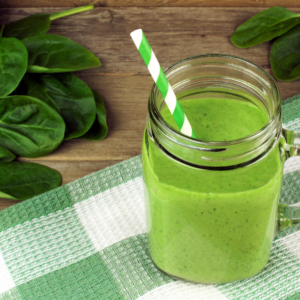 Green Rhubarb Smoothie
Ingredients
1/2

cup

unsweetened coconut milk

or use a different nut milk

1/4

cup

spinach

2

tablespoons

frozen rhubarb

1

very thin slice bitter melon

optional – but it's a super food!

1

teaspoon

palm sugar

or pinch of Stevia

1

scoop

Perfect Paleo Protein

1

scoop

FiberMender
Instructions
Place coconut milk, spinach, rhubarb, and bitter melon in blender. Blend until mostly combined. Add palm sugar or Stevia, protein, and fiber; blend until smooth and taste. Rhubarb can be very tart, so add another pinch of Stevia, if needed. Enjoy!
To get recipes, menus, and shopping lists delivered right to your email inbox each week, subscribe to Dinner Answers today!