To some people, rice might seem like a boring topic but there are so many varieties of rice and as many ways to prepare it, it would take an entire book to discuss them all. Rice is one of the most important grains in the world because it is a staple for most cultures. The only other crop with more worldwide production is corn.
But, it's rice that is mostly grown for human consumption, so it's the largest and most important crop for human eating in the world and is thought to help entire countries avoid and beat food shortages.
A great source of protein and when mixed with legumes, you have a complete protein, fat-free, sodium-free, and an easy to digest meal. Rice contains about 110 calories per 1/2 cup serving. As a bonus, this grain is gluten-free.
White Rice – is essentially brown rice with the bran, husk and germ removed. It's less nutritious than brown rice and in most cases unless enriched nutritionally void.
Brown Rice – the rice plant seeds are milled to remove the outer husks of the grain called the chaff. It is nutritiously superior to white rice.
Parboiled Rice – is brown rice that goes through a steaming process that is later dried. The process does not remove the nutrition from the rice and it keeps it from sticking to the pan during cooking.
Rice can also be puffed, made into flour, milk, and even sprouted, depending upon the kind of rice you purchase — your options are many.
Here's Today's TRICK:
Add some dry rice to soups during the last 20 minutes of cooking (check your rice to see how long it normally cooks because it depends on what kind of rice you buy). When cold weather hits, it will add additional nutrition and make it more filling.
Here's a TIP:
Got leftover rice? Heat it up, throw some milk (dairy, coconut, rice, almond, etc.) over the top, stir in some fruit and you've got breakfast!
And your RECIPE: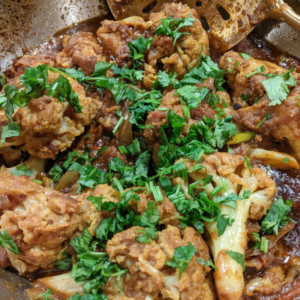 Curried Beef and Cauliflower
Ingredients
1

cup

beef broth

1/2

cup

sour cream

2

teaspoons

cornstarch

2

teaspoons

curry powder

1

tablespoon

olive oil

1

pound

sirloin steak

cut into 1/2-inch cubes

Salt and pepper

to taste

4

cups

small cauliflower florets

1/2

cup

water
Instructions
Combine first 4 ingredients in a small bowl; stir well and set aside.

Heat oil in a large skillet over medium-high heat. Add meat, salt and pepper it to taste, and sauté 5 minutes or until browned. Remove beef from the skillet, and set aside. Add cauliflower and sauté another 3 minutes. Add water; cover, reduce heat, and simmer 4 minutes or until cauliflower is tender. Drain any excess water. Return beef to the skillet; stir in the broth mixture. Bring to a boil; cook 2 minutes, stirring gently.
Notes
SERVING SUGGESTIONS: Serve over brown rice with a spinach salad on the side!