I love me some shrimp! Low in calories, low in fat, and big on flavor, shrimp is fabulous on the barby, great in salads, and makes a magnificent chowder. These babies are also highly nutritious and easy to prepare.
High in protein, omega three fatty acids, and selenium, shrimp can be a great addition to your diet and a fun way to change things up a bit!
Here's today's TRICK:
Shelling and deveining shrimp isn't exactly a fun activity. But you can make it quicker and less painless when you follow my easy steps. Start with a small pair of scissors with a good point on the end used just for this task. Slit the shell up the back using the point of the scissor, then snip away till you get to the tail. As you cut into the shell, you will get a little of the meat too, which will expose the vein. Just pull it out with your fingers, then peel away the shell in one easy piece. Voila, peeled, deveined, and ready for some cookin'!
Here's a TIP:
Buy wild-caught shrimp as this is the most ecologically sound way to get your shrimp. I also recommend US shrimp over Thai shrimp because the potent antibiotic used in Thailand is outlawed here in the US. (chloramphenicol)
And your RECIPE: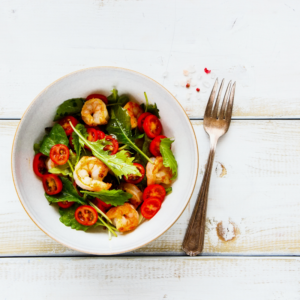 Shrimp and Bacon Arugula Salad
Ingredients
2

slices

center-cut bacon

1 1/2

pounds

large shrimp

peeled and deveined

5

cups

arugula leaves

1

cup

halved cherry tomatoes

2

tablespoons

plain low fat yogurt

2

tablespoons

balsamic vinegar

2

teaspoons

olive oil

1/4

teaspoon

black pepper
Instructions
In a large skillet over medium heat, cook bacon until crisp; remove from pan, reserving 1 teaspoon of drippings in the pan. Crumble bacon and set aside. Add shrimp to pan drippings and saute for 5 minutes or until done. Using a slotted spoon, transfer shrimp to a large bowl; add arugula leaves and cherry tomato halves; toss gently. In a small bowl, whisk together yogurt, vinegar, oil, and pepper; drizzle over shrimp mixture and toss gently to combine. Place 2 1/4 cups of salad mixture on each of 4 dinner plates; divide crumbled bacon evenly among salads.