You knew that was coming, didn't you? Turkey is a wonderful superfood. It may be the centerpiece of our Thanksgiving feasts, but it is much more important than a once-a-year dinner. FYI, we have our FREE Thanksgiving Menu here!
You gotta love turkey, y'all. It is low in fat, high in protein, and rich in selenium, zinc, niacin, iron, and a smattering of B vitamins. That makes this nutritionist pretty happy!
Here's today's TRICK:
Substitute ground turkey breast for ground beef in any recipe calling for ground beef to improve on the saturated fat quota of your meal, reduce calories and be equally delicious.
And here's a TIP:
Heart-healthy turkey is rich in niacin which is associated with lowering the risk for heart attack, so look at eating turkey more often!
And your RECIPE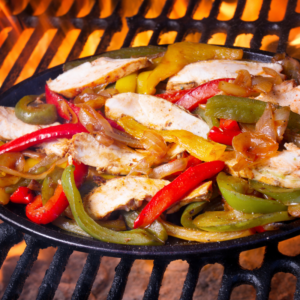 Turkey Fajitas
Ingredients
1

tablespoon

olive oil

2

cloves

garlic

pressed

3/4

pound

boneless skinless turkey breast

cut into strips

2

tablespoons

lime juice

1/4

teaspoon

chili powder

1/2

teaspoon

oregano

1/4

teaspoon

thyme

1/2

teaspoon

cumin

1/4

teaspoon

freshly ground black pepper

3/4

cup

sliced red onion

1

red bell pepper

cut into stripes

8

large

Romaine lettuce leaves

1

cup

chopped cilantro

Salsa

of your choice
Instructions
In a large skillet, heat oil over high heat. Add garlic and turkey. Saute for 2 to 3 minutes till turkey is browned. Add lime juice, spices, onion and red pepper. Cook for 2 to 3 minutes on medium heat, stirring constantly. Lower heat and cover to keep warm.

Use Romaine leaves in lieu of tortillas, top with chopped cilantro and salsa and enjoy! This really is delicious! Eat like a lettuce taco.
Notes
LC SERVING SUGGESTIONS: You could use tortillas. Tortilla Factory makes a low carb tortilla that's decent, but it's not necessary, the lettuce leaves are good. Add a big salad.
SERVING SUGGESTIONS: Use regular corn tortillas and have the big salad, too.