Water chestnuts are an aquatic vegetable that grows in marshes. They have a crunchy, sweet flavor and are popular in Asian dishes.
Their crispness adds a fun crunch to cooked dishes. Since the flavor is so mild they are usually added just for the texture. Along with being a good source of fiber and potassium, they are also low in sodium and are basically fat-free, but high in carbs. You can eat water chestnuts roasted, boiled, grilled, pickled, or sauteed.
It is not suggested that you eat them totally raw due to a possible infection that can result called Fasciolopsiasis, which is a flatworm infestation, resulting in diarrhea, fever, abdominal pain, and even intestinal obstruction, eek!
Here's Today's TRICK:
Add water chestnuts to cold dishes where an added crunch is desired. Boil first for five minutes, drain, and chill on ice or in the fridge (or just use the canned variety!).
Here's a TIP:
Choose water chestnuts that are firm, store them in a paper bag without washing in the fridge for up to two weeks.
And Your RECIPE: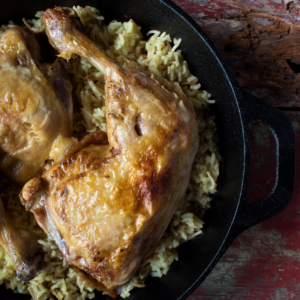 Winter Wild Rice Bake
Ingredients
2

cans

organic chicken broth

1

cup

uncooked wild rice

1/2

cup

water chestnuts

sliced

1/8

cup

butter

melted

1/8

cup

coconut oil

melted

1/2

pound

mushrooms

sliced

1

bunch

green onion

chopped including stalks

1

clove

garlic

smashed
Instructions
In a sauce pan melt the butter, cook the onion, garlic and mushrooms until onion is clear. Spread the melted coconut oil on the bottom of a 1 1/2 quart baking dish. To the pan of mushroom mixture add the broth and the rest of the ingredients mixing well. Pour into the baking dish. Bake entire dish covered at 350 degrees for about 1 hour until the rice is done. Toss and serve.
Notes
Variation: To the top of the rice mixture before cooking place four chicken breasts, sprinkle with a bit of seasoning of your choice. Cover bake for an hour until chicken and rice is done.