Coconut milk has been my new beverage of choice to add to my smoothies so I wanted to tell you a little bit about this fabulous food.
First off, it's fatty. Love that! But good fatty. It's full of short and medium-chained fatty acids which get used, not stored, unlike long-chained fatty acids. Medium-chain fatty acids aid in weight loss folks, yeehaw! Also, lauric acid (an MCFA) is anti-fungal, anti-viral, anti-bacterial, and anti-microbial. That means it's going to help you fight the bad guys in your body, boost your good guys in your gut and give you great energy. Love that!
Here's today's TRICK:
Open the can UPSIDE DOWN! The fat rises to the top; so if you shake it and open it upside down, it will be better mixed when you open it.
Here's a TIP:
Add it to coffee instead of creamer. Use the full-fat variety for a little tropical flavor.
And your RECIPE: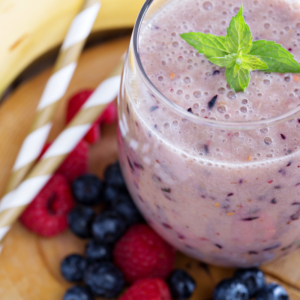 My New Smoothie
Ingredients
1

cup

mixed organic berries

1/4

cup

coconut milk

1

teaspoon

local honey

great for fighting allergies

1

scoop

Perfect Paleo Protein

water as needed
Instructions
Let 'er rip! Makes one big old smoothie. Very satisfying, very filling. Love, love LOVE coconut milk!