Ground beef is a ubiquitous family favorite when it comes to dinner. Think about all the possibilities—there's sloppy joes, hamburgers, meatloaves, meatballs, skillet dinners—and endless variations of all of the above. How can you not love it?
Even if ground beef doesn't do it for you, there is something ground up that will work for you, be it chicken, turkey, pork or even TVP (texturized vegetable protein).
But my favorite way to use ground beef (or other ground up variables) is in the skillet– the wonderful, heavy bottomed, at-your-service skillet. With a package of thawed ground round and a few tricks, you can have dinner in a hurry—no packaged mix necessary! You can save money by doing it yourself and save yourself and your family from those scary ingredients that even your high schooler couldn't pronounce. So let's get busy, here's what you need:
*1 pound ground beef (or other ground meat)
*1 onion, chopped
*1 big old skillet
*Some veggies
*Some seasoning (garlic is always good, then think ethnically for the rest; cumin for Mexican, basil and oregano for Italian, etc.)
*And a starch, like pasta or rice
But what about meatloaf? You need to try this recipe—it's slap your mama good as they say in the South. But using the above-mentioned formula, you could turn it into a Meatloaf Scramble (just add the ketchup and milk at the end for a sauce and let simmer). It's easy to create something when you have a blueprint of what to do!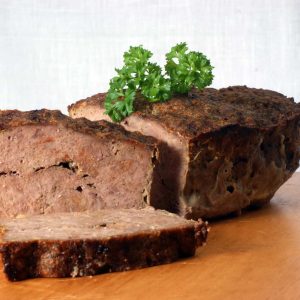 Manic Meatloaf
Ingredients
1

tablespoon

olive oil

1-1/2

cup

chopped onion

1/2

cup

red bell pepper

chopped

1/4

cup

green bell pepper

chopped

2

large cloves

garlic

pressed

2

eggs

beaten

1/2

cup

ketchup

1/2

cup

milk

1

teaspoon

cumin

1/2

teaspoon

nutmeg

1/2

teaspoon

white pepper

Salt and pepper

to taste

2

pounds

ground beef

1/2

pound

sausage

not Italian

3/4

cup

fine bread crumbs
Instructions
In a skillet, heat oil over medium high heat. Add the onion, bell peppers, and garlic. Cook for a few minutes till fragrant and beginning to wilt, then turn on low till wilted, about 10 minutes. Set aside.

In a large mixing bowl, add the meats, and remaining ingredients. Mix well. Add sauteed vegetables and mix well again. Shape into a long oval-ish blimp—resembling a fat loaf of French bread–and bake at 375 degrees in a baking pan, for approximately 45 minutes.
Notes
Serve with garlic mashed potatoes, (generously add some garlic powder when mashing the potatoes) and steamed broccoli. Enjoy!