Some call them portobellos, but according to the Mushroom Council, we all should be calling them portabellas. The dark brown portabella mushroom is actually a fully mature cremini mushroom. In the early 1980s, the formerly unglamorous portabella became a bit en vogue and now enjoys a fair amount of space in the fungi spotlight.
These substantial mushrooms are available year-round and can be enjoyed in a meaty stew on a cold winter day or grilled up for a vegetarian burger option at a summer barbecue. Portabella mushroom caps are delicious when marinated in balsamic vinegar and grilled for use in sandwiches or in place of another type of protein.
Portabellas grow to be 5-6 inches in diameter and every single bit of that meaty brown mushroom cap is packed with flavor.
Portabellas contain 5 grams of protein per cup, along with a handful of nutrients including selenium, copper, potassium, phosphorous, iron, calcium, zinc, niacin, manganese, magnesium, riboflavin, folate, and B vitamins. Portabella caps also contain lots of antioxidants. These antioxidants found in portabellas are not destroyed by cooking like they are in other foods.
If you suffer from gout, you should avoid eating portabella mushrooms because they contain compounds called purines which can give you difficulty.
But for the rest of us, enjoy portabella mushrooms often to give your body a great boost of minerals and vitamins.
Now that you're hungry for mushrooms, it's time for your Trick:
Look for portabellas with light-colored gills. The underside of a good portabella mushroom should be nice and tight. Store your portabellas in a brown paper bag in the fridge for no more than ten days.
Your Tip:
Save the woody stems of your portabellas to put in vegetable and beef stocks. I keep a container in the freezer for tossing scraps like this to be turned into a substantial broth.
And your Recipe: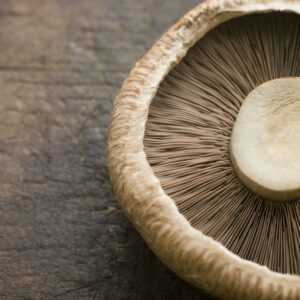 Portobella Burgers
Ingredients
4

large

Portobella mushrooms

stems removed

1/4

cup

light Italian salad dressing

divided

Non-aerosol cooking spray

4

1-oz. slices

Provolone cheese

4

whole wheat hamburger buns

split

1

7-oz. jar

7-oz. jar roasted red peppers, drained
Instructions
Brush both sides of mushrooms evenly with 3 tablespoons of the salad dressing.

Coat a grill rack with cooking spray.

Place mushrooms on rack; grill, covered, 5 minutes on each side or until tender.

Place cheese over mushrooms and grill 1 minute longer or until cheese has melted.

Brush buns with remaining dressing and grill until lightly toasted.

Place mushrooms over bottoms of buns, top with roasted red pepper pieces and tops of buns.
Looking for more delicious recipes like this one? Check out our Dinner Answers program today!