I am a huge fan of lentils and wanted to give you some background on why you want to include them in your diet. Lentils are one of the oldest cultivated crops in the world. In the Bible, Jacob tricked Esau into giving up his birthright over a bowl of lentils! Yeah, they're that good! High in protein, amazing in fiber, lentils have an earthy, satisfying flavor. They're tops on my list!
Here's today's TIP:
Lentils can be dusty and have even a pebble or two in their contents which is hard to see if you put them directly into a strainer to wash. Lay them out on a cookie sheet first, pick through and take out the shriveled or bad-looking lentils as well as anything else that shouldn't be there, THEN put them in the strainer to wash.
Here's today's TRICK:
Avoid salting your lentils and adding acidic products (such as lemon or tomatoes) till after they've cooked or they won't be as tender as you would like.
And Your RECIPE: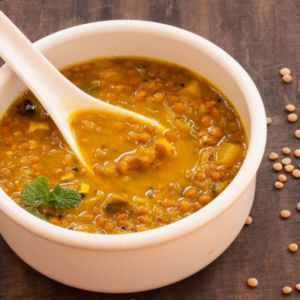 Esau's Potage
Ingredients
1

pound

lentils

rinsed, drained and picked over

1

tablespoon

olive oil

2

onions

chopped

2

carrots

chopped

1

large stalk

celery

chopped

5

cups

low sodium chicken broth

1

teaspoon

thyme

1

teaspoon

garlic powder

1

14.5-oz can

diced tomatoes

Sea salt and freshly ground black pepper

to taste
Instructions
In a soup pot over medium-high heat, add the oil.

When hot, add the onion, carrot, and celery.

Cook till tender, add everything else except the tomatoes and simmer for an hour.

When the lentils are tender, add the canned tomatoes; salt, and pepper to taste and serve.
Looking for more delicious recipes like this one? Check out our Dinner Answers program today!