It's been a while since I've been able to stay up long enough to see David Letterman go through his top-ten schtick. But that's okay-I can do my own top ten. And this time, I have picked some green foods to dish on.
We all know that we should choose more green foods for better health. But do you know why these foods are healthier? Here's the official list that will make you green with nutrition envy. Stock up on these healthy foods and get your new year and new you off to a great start in 2012.
1. Popeye's Fave: Spinach is an exceptionally nutritional powerhouse. Each leaf is packed with beta carotene and folate-an important nutrient for women desiring to get pregnant. With only 25 calories per 4-ounce serving, this Popeye pleaser should be included in everyone's diet.
2. Bucking Broccoli. Another antioxidant-rich food, broccoli contains beta carotene, vitamins C & E, folate, iron, and potassium. A terrific low-calorie food (33 calories per 4-ounce serving), broccoli delivers in the nutrition department.
3. All Kale the Conquering Hero. Kale is often used to decorate produce cases at the market. But take your kale to the next level-make that table level and steam up a batch for your family. This delicious member of the brassica family is full of nutrition, including vitamins C & E, as well as beta-carotene.
4. Lettuce Entertain You. Although nearly 90% water, lettuce (the dark green leaves only; Iceberg need not apply) is rich in folate, vitamin C, and beta-carotene. It's a toss-up which type is better-just keep those leaves green-the darker the better.
5. 'Choke Up. Artichokes are naturally full of potassium and as a bonus, help to naturally lower cholesterol. To make 'chokes even more attractive, one Globe Artichoke is only a mere 9 calories! Just say no to the mayo and you'll do fine.
6. Asparagus for Us. A great source of vitamin E, asparagus (asparagi?) are also loaded with known phytochemicals to help fight cancer (glutathione, for example) and as a natural diuretic, will help get rid of that excess water weight.
7. Rustle Up the Brussels Sprouts. Fiber-licious, Brussels Sprouts manage to pack folate, beta carotene, potassium, and vitamin C all in that little miniature cabbage wannabe. Steamed up with a little nutmeg sprinkled over the top, these often-overlooked veggies are delicious!
8. Advocate Avocado. Yeah yeah. High in fat. But did you know that avocado is also filled to overflowing with vitamins A & E, potassium, and vitamin B6? The key with anything this delicious and full of fat is to go easy. That means one-eighth of an avocado would be adequate per serving.
9. Peppy LePepper. The lowly green bell pepper not only adds a little zip to an otherwise boring stir fry or meatloaf, but it also contains a good helping of beta carotene, folate, and potassium as well as a good amount of phytochemical power in the form of various carotenoids.
10. The PeeWee Kiwi. This brown fuzzy fruit contains a great green gob of fiber, vitamin C, and potassium, all hiding deliciously within its not-so-attractive container. Sliced up in a salad, it adds an unexpected taste of sweetness to your greens.
Here's a salad that packs three of the top ten green foods into one super salad-enjoy!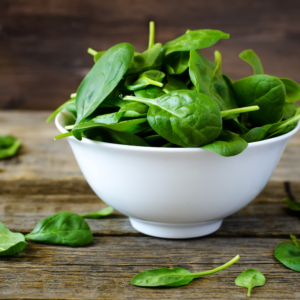 Super Spinach Salad
Ingredients
1/8

cup

red wine vinegar

1

teaspoon

dried tarragon

1/2

teaspoon

Dijon-style mustard

1/2

cup

olive oil

Sea salt and freshly ground black pepper

to taste

1

bag

baby spinach

1-2

avocados

peeled, pitted and cubed

1

tablespoon

lemon juice

1

small

red onion

thinly sliced

2

kiwis

peeled, sliced and quartered
Instructions
In a small saucepan over medium heat, bring vinegar and tarragon to a boil; set aside to cool.

Whisk together the vinegar and mustard, then gradually add oil, beating until well blended. Season with salt and pepper.

Place spinach in large mixing bowl. In medium bowl, generously drizzle lemon juice over avocado cubes before tossing in salad to prevent browning and to enhance flavor.

Gently mix avocados, onions and kiwi into spinach. Pour in salad dressing and toss evenly to coat.
PS–You can receive delicious menus (complete with shopping lists!) like this delivered right to your email inbox by subscribing to Dinner Answers today!