Where's the beef, was the cry heard 'round the world over twenty-five years ago, by a little lady named Clara Peller who got a tad upset when there wasn't enough ground round between the hamburger buns.
A lot has changed since 1984. Not only is it hip to beef up the protein in your meals, but today's meats and poultry have become a lot leaner. One thing that has stayed the same is finding the right cut and knowing what to look for.
So let's mooove, ladies and gentlemen. Can I hear the drumsticks drumming, please? Another fabulous top ten list—this time a quick how-to for getting the right meats and poultry:
1–Love Me Tender. Make sure the meat you are purchasing is tender to the touch. If it is rough, that means the animal was either too old or stressed when it was butchered.
2– Glean for Lean. There are lots of choices out there…make sure you look for the one piece that isn't too marbled. True, marbling means tender, but it also means FAT.
3- Old is Gold. Aged beef is better because the connective tissue breaks down yielding a tenderer cut of beef. Look for beef that has been aged at least 14 days.
4– In the Thick of It. A thicker pork chop is far superior to a thin one unless you're a sucker for a good piece of shoe leather. Thick chops are more flavorful, much more tender and much better eating.
5- Sound Ground Round. Check the labels of ground beef. Most supermarkets offer many different types of ground meat and give you the percentages of fat by weight right on the package. Look for the lowest percentage of fat to save big on calories and fat grams.
6- Think Pink. Or red even, but never brown. Brown meat is a sign that it may be spoiled. Stay clear and go for the pink or red cuts of meat.
7– The Thigh's the Limit. When choosing poultry for your slow cooker, dark meat is always best. Skinless boneless chicken thighs are an excellent choice as they are low in fat without the skin.
8- Chilly Chicken. When buying poultry, make sure it is cold to the touch. A well-chilled chicken helps to prevent bacterial contamination. Keep your chick cool.
9– The Smell Test. Fresh poultry has a very mild scent while not fresh poultry is rather pungent. Less is more in this olfactory exercise.
10– Cook Your Goose. Remember to cook meat and poultry thoroughly. When you cut through to the center to test, the juices should run clear. Whole birds should register 180 degrees on the meat thermometer.
Here's a simple recipe for meat that will have you standing and cheering! Fire up the barbie and enjoy this easy recipe: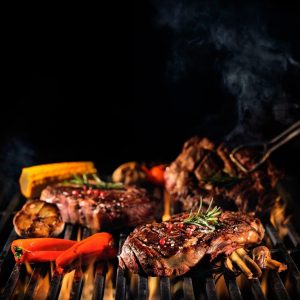 Jamaican Jerked Rib Eyes
Ingredients
DRY RUB
1 1/2

tablespoons

garlic powder

1 1/2

tablespoons

dry onion flakes

3

tablespoons

brown sugar

3

teaspoons

sea salt

3

teaspoon

dried thyme

3

teaspoon

ground ginger

3

teaspoon

allspice

1 1/2

teaspoons

freshly ground black pepper

1 1/2

teaspoons

cinnamon

3/4

teaspoon

cayenne pepper

1/2

teaspoon

ground nutmeg
MEAT
6

4-6-oz.

rib-eye steaks

or steak cut of your choice
Instructions
Preheat barbecue grill. If you don't have a grill, plug in your George Foreman, pull out a stovetop grill pan or turn on your oven broiler.

In a bowl, mix all the spices and combine well.

Sprinkle dry rub on one side of each steak, covering evenly.

Now comes the rub part. Rub the dry spice mixture into the meat. Flip the steak over and repeat the process.

Grill over medium heat until steak reaches your desired level of doneness.

If broiling in the oven, place meat about 5 inches from broiler, and cook for about 8 minutes per side.
Notes
Per Serving: 281 Calories; 13g Fat; 30g Protein; 10g Carbohydrate; 1g Dietary Fiber; 69mg Cholesterol; 1006mg Sodium. Exchanges: 1/2 Grain(Starch); 4 Lean Meat; 1 Fat; 1/2 Other Carbohydrates. Points: 7
SERVING SUGGESTIONS: Baked sweet potatoes and a big hearty salad.
Here's a bonus tip for you – meat freezes GREAT! Be sure to check out our Five for the Freezer – Steak eBook Bundle which can help you take advantage of those meat sales! Have you tried Wild Pastures, yet? It's my favorite resource for clean meat, poultry and fish!