Fresh basil is one of the headiest, aromatic herbs and the smell of it makes me think of summer. Love dried basil in soups and stews, love fresh basil in salads, pesto (of course), pasta, bruschetta, and anything else I can think of. This is one of my most favorite fresh herbs!
But it isn't just the flavor that is so good—it's also good for you. Basil is high in vitamin K, magnesium, calcium, iron, vitamin A, plus lots of trace minerals. Add to that the fact its antibacterial and anti-inflammatory qualities make it a healing herb, what's not to love about basil?
Here's Today's TRICK:
Grow your own! It is so easy to grow in the ground, in a container, or with a start from a nursery. When you take the leaves off the top, it will keep growing until your first frost.
Here's a TIP:
Remember just the leaves; the stalks are bitter. To make a chiffonade (thin ribbonlike slices of fresh basil), take all your leaves, pile them on top of each other, roll them up like a big cigar then using kitchen shears, snip away. Fast and easy!
And your Basil RECIPE: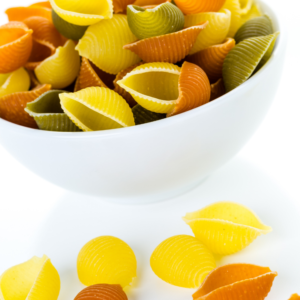 Pasta Salad Primavera
Ingredients
3

cups

pasta shells

uncooked

3

carrots

sliced

3 3/4

cups

zucchini

sliced

1

small

red bell pepper

diced

1

small

red onion

minced

1

cup

fresh corn cut from the cob

cut from the cob

3

tablespoons

olive oil

4

cloves

garlic

pressed

4

tablespoons

fresh basil

salt and pepper

to taste

6

ounces

provolone cheese

chopped
Instructions
Prepare pasta according to package directions; drain and set aside.

Meanwhile, steam the carrots (for 4 minutes) then add zucchini cook just until tender, another 3 to 5 minutes.

Place in a bowl with ice to stop cooking, then drain and add the vegetables in a large bowl, along with the bell pepper, onion and corn.

Add remaining ingredients and mix well.

Add pasta to bowl and toss lightly.
Notes
SERVING SUGGESTIONS: Serve with a big green salad.
For more recipes like this, check out Dinner Answers.