Did you know 1 pound dry packaged beans = 2 cups dry = 6 cups cooked beans. Buying dried beans and preparing them yourself is a great way to save money at the grocery store as well. Cooked beans will store nicely in your refrigerator for 4 days and you can freeze them for up to 6 months.
Here's Today's TRICK:
Soaking your beans leaches some of the gas producing properties out of the bean. But for this to work, you need to discard the soaking water and replenish it with fresh water before cooking. The longer you soak them, the less gassy beans will be.
Here's a TIP:
Cook your beans in a crockpot and you can save the soaking step. However, I still recommend rinsing them a few times before you cook them. Remember, this is a raw agricultural product and they need careful cleaning.
And Your RECIPE: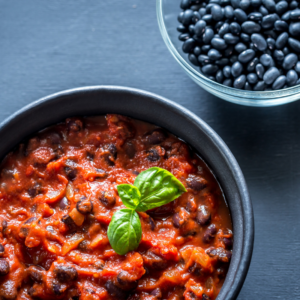 Easy Crock Pot Chili
Ingredients
2

cups

onion

finely chopped

2

cloves

garlic

minced

1

tablespoon

chili powder

1

teaspoon

oregano

ground

1

teaspoon

cumin

ground

1/2

teaspoon

crushed red pepper flakes

1/8

teaspoon

hot pepper sauce

1

4.25-oz. can

diced green peppers or chilies

1

14.5-oz. can

peeled whole tomatoes

(up to 2 cans if you wish)

2

teaspoons

salt

2

cups

cooked ground turkey meat

2

16-oz. cans

black beans

(or use 3 cups homemade)
Instructions
Throw everything in a crock pot and cook on low heat setting for 7 hours.
Notes
SERVING SUGGESTIONS: Serve with corn bread and a big green salad.