Escarole is a form of endive, which is typically cooked or consumed raw with lettuce and salads. It is also known as broad or common chicory. It is one of the less bitter varieties of endives and can add a unique taste to salads. The vegetable is typically categorized by its leaves, which are wider and paler than other leafy veggies.
The inner leaves of the escarole tend to be even less bitter than the outside, as the sun cannot properly reach the innards. Some farmers grow escarole with a covering to prevent any part of the plant from being too bitter. Many people use several different layers of escarole in their recipes, depending on the taste they are trying to achieve. These greens contain folic acid, vitamins A and K, and fiber, making them a perfect addition to many dishes. Escarole tends to be more costly than other greens, but can be found in the produce section of most supermarkets.
Here's Today's TRICK:
Escarole isn't a delicate leaf which makes it a great wrap for your sandwich or burrito even!
Here's a TIP:
Prepping escarole is similar to the process that you would use to prepare lettuce and other greens. Each of the leaves should be separated from the head and washed before use.
And Your RECIPE:
Other than in salads, escarole can be served as a side item in a number of ways. A popular recipe involves soaking the leaves in lemon juice before serving. They can also be chopped and added to many soup recipes such as vegetable or egg drop soup.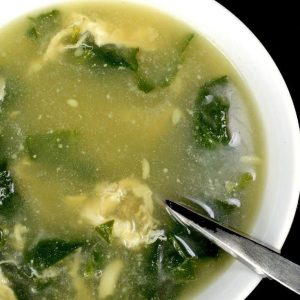 Chicken and Egg Drop Stew with Escarole
Ingredients
1

tablespoon

extra virgin olive oil

1/2

onion

chopped extra fine

4

cups

chicken broth

2

cups

chopped left over chicken or turkey

1

head escarole

cleaned and torn into bite-sized pieces

4

eggs

poached

hot chili sauce

optional
Instructions
In a stock pot, add olive oil, cook onion until clear, add broth, bring the broth to a boil, add escarole.

Poach eggs.

Put one egg into each soup bowl, cover with the soup.

Allow diners to add a drop of chili sauce if desired.
Looking for more delicious recipes like this one? Check out our Dinner Answers program today!