Winter is here, and baby, it's cold outside! Everyone enjoys a cup of something warm but you know the drill–most of the time, these things are calorie bombs in a cup! So how do we navigate this desire for warm beverages vs. the stuff out there that will pack on the pounds and make your thighs expand?
Let's start with some tea, shall we?  Is anyone out there a tea drinker? I have English bones and was raised in a regular tea-sipping home. The only challenge with tea is that it's hard to break the English tea habit of adding milk or sugar. But I've come across a tea that doesn't need a thing. Good Earth is the brand and the tea that I especially love is the original Sweet and Spicy. It's a deep red color, with a rich cinnamon taste with sweet tones, leaving the drinker's tongue infatuated with flavor and subtle sweetness. Give it a try, it's low in the calorie department and tastes like Christmas in a cup!
For an occasional treat, like after you go cross country skiing or other winter sport (think TREAT!) you can make your own drinks that you would usually buy mixes for: hot chocolate for example.
Hot chocolate is especially easy to make. All you need is unsweetened cocoa baking powder, sugar to taste (be mindful or use a little xylitol instead), a splash of vanilla extract, and a cup of hot milk. In measuring out your own ingredients you don't have to worry as much about any mysterious additives that tend to increase that calorie count we're all so cautious of.
Or you can use this Paleo Hot Chocolate recipe, but remember this is a TREAT, not something to drink all the time: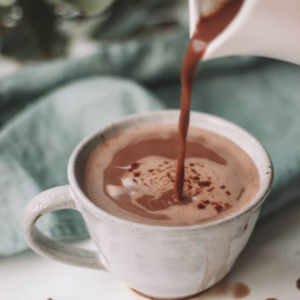 Paleo Hot Chocolate
Ingredients
1 1/2

cups

unsweetened almond milk

2

tablespoons

unsweetened cocoa powder

2 to 3

tablespoons

raw honey

to taste

1

teaspoon

vanilla extract
Instructions
In a heavy bottom sauce pan, heat almond milk over medium high heat. Remove from heat before milk boils. Whisk remaining ingredients together with milk and voila! Add a dash of cinnamon if you're an adventurous cocoa consumer 😉
For More Fun Winter Sips, try these:
Anti-Inflammatory Magical Midas Milk
Paleo Cocoa and Coconut Whipped Cream