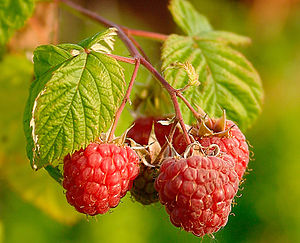 This particular berry is my personal favorite; delicious, fragrant sweet raspberries make my mouth water! From the flavor to the texture to the smell, how can you not just love them?
But the real beauty of raspberries is their nutritionally powerful punch. Ellagic acid is the mighty antioxidant found in this berry that makes it particularly potent and cancer fighting. Additionally the flavonoids found in raspberries not only help fight cancer, but fungal cooties too as they are a powerful antifungal.
Here's today's TRICK:
Don't wash these highly permeable berries till just before you are ready to use them or they will get moldy quickly.
Here's a TIP:
If you're lucky enough to have a basket of fresh raspberries, toss them in your dinner salad with whatever else you've got in there. A great combo is walnuts, raspberries and my vinaigrette with a red leaf lettuce—sublime and wonderful. (my vinaigrette is one clove pressed garlic with a 3:1 balsamic vinegar to extra virgin olive oil)
And your RECIPE (from Saving Dinner The Vegetarian Way):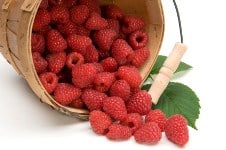 Raspberry Salad
Ingredients
Salad
3

cups

Romaine lettuce

torn into bite size pieces (or try baby spinach!)

1

cup

red cabbage

thinly sliced

1/2

cup

English cucumber

sliced

2

cups

raspberries

reserving 2 tablespoons for dressing

1/4

cup

dried cranberries

2

tablespoons

chives

chopped
Dressing
3/4

cup

olive oil

2/3

cup

red wine vinegar

2

tablespoons

raspberries

2-3

tablespoons

honey

2

teaspoons

Dijon mustard

1/2

teaspoon

dried basil

1

tablespoon

fresh parsley

minced
Instructions
In a large bowl, combine salad ingredients. Blend dressing ingredients in blender. Toss greens and berries with dressing and serve immediately.
Notes
SERVING SUGGESTION: Serve this pretty salad with open faced melted cheese croissants. Using whole wheat croissants, slice them down the middle, add whatever sliced cheese you have laying around the fridge and broil the croissants till hot and bubbly. Or serve croissants with cold sliced cheese if the weather is too hot and skip the broiling.