Sweet delicious strawberries are one of spring's better crops; especially when they're locally grown, freshly picked and the air is filled with the smell of ripe strawberries, yum! Bursting in vitamin C and fiber, who doesn't love strawberries?
Their heart shape should tell you that this is a fruit that will help promote healthy hearts. Besides the fiber and vitamin C, strawberries also contain a smattering of vitamin B's some manganese, iodine, and potassium. Succulent strawberries pack a nutritional wallop with their phenols, unique antioxidants that fight inflammation, cancer, and heart disease.
And here's a TIP:
BUY ORGANIC. Unfortunately, strawberries are on the EWG's Dirty Dozen list of the most pesticide-ridden produce (google Dirty Dozen Foods for more info). Think about it; those permeable skins are a set up for pesticide penetration; you don't need to be an agricultural Ph.D. to figure that one out. This will also mean you will most likely only buy in season, which is a good thing!
And a TRICK:
You can always find flash-frozen organic strawberries in your freezer aisle. True, they're not as delectable as their freshly picked cousins, but the organic part of the strawberry equation is important! Eating pesticides is completely unappetizing!
And your RECIPE: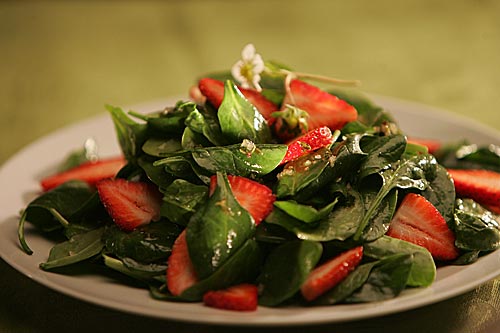 Spring Spinach Salad
Ingredients
Salad
1

5-oz. container

organic baby spinach

4

thin slices

red onion

separated and cut in half

8

strawberries

sliced
Homemade red pepper vinaigrette
2

teaspoons

red pepper jelly

melted in the microwave

1

tablespoon

balsamic vinegar

3

tablespoons

extra virgin olive oil
Instructions
Vinaigrette: mix jelly, balsamic vinegar, and olive oil in a jar and shake vigorously.

In a large salad bowl, place all your ingredients, add the dressing, and toss, and enjoy!

I let the salad sit for about 5 minutes before serving then give it another toss. YUM!
Looking for more delicious recipes like this one? Check out our Dinner Answers program today!