If one of your health goals is to keep your heart as healthy as possible (good move, too–kind of critical in the staying-alive scheme of things), then you need to know what your heart needs in the form of nutrients to operate optimally. There are foods that give the heart a nutritional advantage and provide nutritional protection in form of antioxidants. Free radicals break down our health and naturally occur in the processing and digesting of food, however, there are certain foods that are rich in antioxidants and will promote health. To understand free radicals, think about what happens to a bike left out in the elements–it rusts. Putting your bike in the garage will help prevent that from occurring as much. Eating foods rich in antioxidants is like providing a nutritional garage for your heart.
Foods rich in vitamins A, C, & E (the antioxidants you need), with all their natural corresponding phytochemicals, are front and center, the best choices for heart health.
Foods abundant in vitamin A include eggs, dark green leafies, broccoli, and yellow and orange veggies (where you can see the beta-carotene; a precursor to vitamin A).
Vitamin C is associated with citrus fruits but is also present in large amounts in bell peppers (especially red ones), broccoli, strawberries, and kiwi.
Vitamin E is present in leafy greens also and whole grains, nuts, and seeds.
You don't need to print this list out and memorize it. These same nutrients will keep you healthy for other things that concern you health-wise, too. So take heart! Keeping your heart healthy is something you can do by eating a wide variety of healthy foods–so eat up!
And to help you out here's a great recipe for Cream of Broccoli Soup.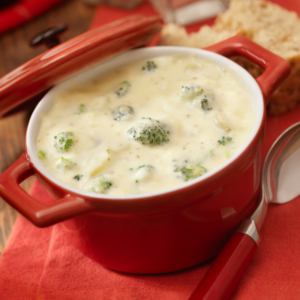 Cream of Broccoli Soup
Ingredients
1

tablespoon

butter

1

medium

onion

chopped

1

large bunch

broccoli

3

medium

potatoes

peeled and diced6 cups low sodium chicken broth

6

cups

low-sodium chicken broth

OR use homemade bone broth

1 1/4

cups

milk

lower fat grams by using skim

1/4

cup

grated Parmesan cheese

can use less

Salt and pepper

to taste

1

cup

lowfat cheddar cheese

shredded (can use less)
Instructions
Melt butter in a 4- to 6-quart soup pot. Saute onion until softened, about 3 minutes. Cut broccoli into florets and thinly slice tender upper portion of stems. Add to pot along with potatoes and chicken stock. Cover and simmer until potatoes and broccoli are tender, about 20 minutes. Puree mixture in several batches in food processor or blender. Return puree to soup pot and stir in milk, Parmesan cheese, salt and pepper to taste. Gently heat (a hard boil will cause the soup to break and the milk to turn to curds!)

To serve, ladle 8-ounce servings into broiler-safe dishes. Sprinkle each bowl with shredded cheddar cheese and serve.