The next time you pass by the plantains in the grocery store, you should pick up a couple (maybe one green and one on the yellow side because they differ greatly in taste and texture). These starchy fruits aren't all that nutritious, but they're an interesting food to add to your repertoire if you've gone Paleo and aren't eating potatoes, rice, or pasta anymore.
You might describe a plantain as being a potato in a banana peel.
Though plantains and bananas are related, they have a few key differences. Plantains are used for savory purposes and not so much for sweet (until they are over ripe). Quite bland in taste, plantains are often cooked with other items to give them some oomph. And they are also quite difficult to peel when they aren't quite ripe. Plantains are also more firm than their sweet banana cousins.
There is some potassium, Vitamin A, B6 and C in plantains, and of course they contain fiber. But because of their tremendous starch content, go easy on the plantains.
Now for your Trick:
To peel a green plantain, cut the ends off of it and slice the fruit into sections. Make vertical slices in the peels of those chunks and then peel from there.
Your Tip:
Plantains get sweeter as they ripen. If you're looking to make delicious fried plantain chips, go for the greener plantains with a hint of yellow. The almost black plantains will not do so well for this application!
And your Recipe: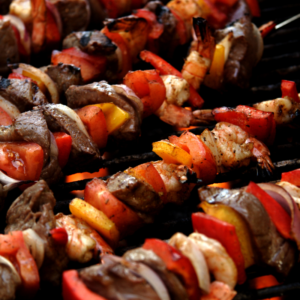 Grilled Jamaican Beef Kabobs
Equipment
6 12-inch skewers

metal or bamboo
Ingredients
1/2

cup

chopped green onions

1

tablespoon

ground allspice

2

tablespoons

red wine vinegar

1

teaspoon

salt

1/4

teaspoon

dried thyme

2

teaspoons

low sodium soy sauce

1/2

teaspoon

ground cinnamon

1/8

teaspoon

ground nutmeg

2

habanero or serrano peppers

seeded

1 1/2

pounds

beef tenderloin

trimmed and cut into 30 cubes

1

red bell pepper

cut into 18 pieces

2

black-ripe plantains

peeled, and each cut into 9 pieces

Non-aerosol cooking spray

Diagonally-cut green onions

optional

Lime wedges

optional
Instructions
Preheat outdoor or indoor grill. In a food processor or blender container, combine first 9 ingredients (green onions through peppers); process until smooth. Place green onion mixture, beef and bell pepper pieces in a large zipper-topped plastic bag; seal and turn to coat. Marinate in refrigerator for 20 minutes. Transfer beef and bell pepper pieces from plastic bag (discarding marinade) to a large bowl. Add plantain pieces and toss well to coat. Onto each skewer, alternately thread 5 beef cubes, 3 red pepper pieces and 3 plantain pieces. Lightly coat kebabs with cooking spray and place them on grill rack coated with cooking spray. Cook for 4 minutes per side for medium-rare, or until they reach desired level of doneness. Garnish with green onion pieces and serve with lime wedges, if desired.
Notes
DO-AHEAD TIP: If using bamboo skewers, soak them in water for 30 minutes prior to grilling. Marinate beef and bell pepper pieces for 20 minutes.
Foods like plantains are a good source of fiber. If you're looking for a less starchy type of fiber, you must check out our FiberMender. It's 100% Paleo compliant and one serving contains 10 grams of fiber, probiotics and glucomannan for suppressing the appetite. Great for weight management!