If you and kale have an on-again, off-again relationship, there's a good chance that you just haven't met the right kale yet. (It's not kale, it's you.)
Some types of kale are better for some things than others and all varieties of kale have slightly different tastes and textures.
There are so many amazing health benefits you gain from eating kale that I strongly suggest you find one that you can incorporate into your diet without too much pain!
If you're not a fan of curly kale, you might really like dino kale. This dark kale with long, flat, textured leaves is also commonly referred to as Tuscan kale, black kale, or lacinato kale. Many believe this kale to be more versatile, more delicious, and easier to work with than other kale varieties.
Dino kale has a pleasant texture that holds up to a little bit of cooking, but it's also nice and earthy-sweet when eaten raw.
One cup of this wonderful Italian variety of kale gives you a walloping nutritional punch, providing 100% of your daily recommended amount of Vitamins K and A along with 88% of the Vitamin C you need in the run of a day. A member of the brassica family of plants, Tuscan kale is a fabulous source of sulfur compounds that have been shown to prevent cancer.
Now, that you're willing to give dino kale a chance, I've got a trick, a tip, and a recipe for you!
A Dino Kale Trick:

Buy the freshest dino kale that you can because the older it is the more rubbery the texture! Plus, the taste starts to get bitter after a while so buy it fresh and eat it up.
Your Tip:
Dino kale is one of the easiest things to grow in your garden! If you plant your own Tuscan kale, it can grow up to three feet tall or more. This variety of kale looks very interesting when it grows and it will give an almost prehistoric look to your garden (it is called dino kale after all!). Kale likes lots of sun and rich soil. Kale loves the cold so don't worry if you're in a cooler climate.
And your Recipe: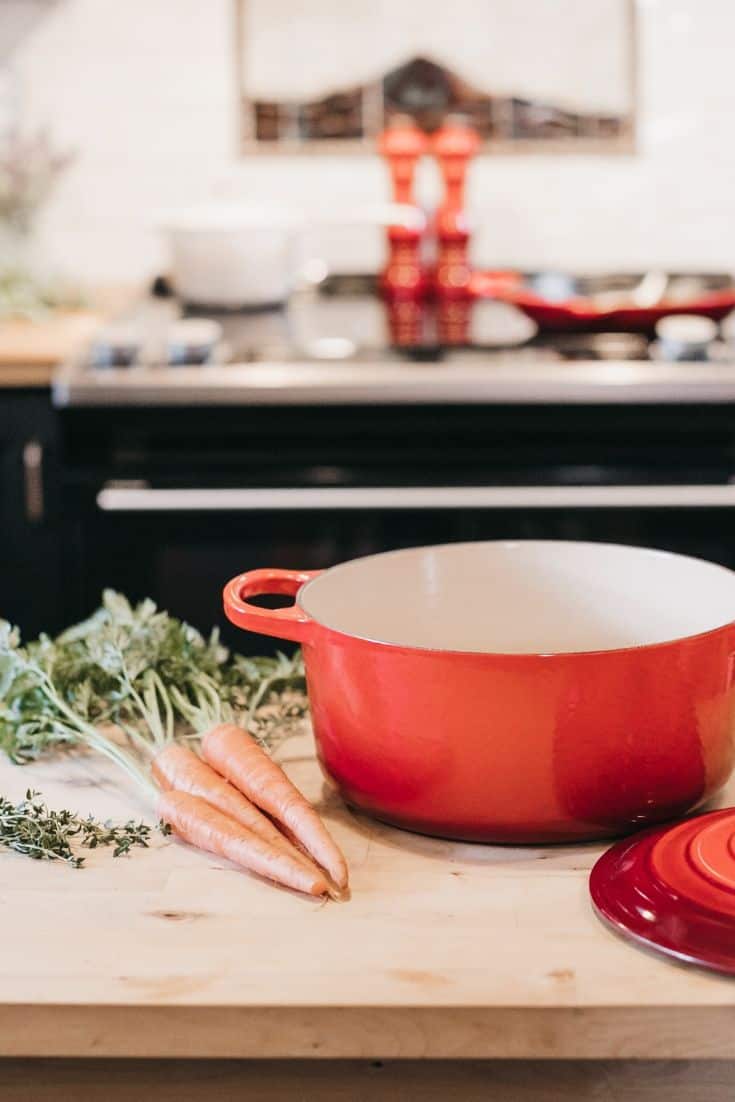 Chicken Soup
Ingredients
1

tablespoon

olive oil

2

medium

carrots

diced

2

medium stalks

celery

diced

1

small

onion

sliced

1

bunch

bunch dinosaur kale

de-stemmed and chopped

2

cloves

garlic

pressed

1

teaspoon

curry powder

1/4

teaspoon

ground ginger

1/4

teaspoon

ground cumin

1/2

teaspoon

crushed red pepper flakes

2

teaspoons

tomato paste

4

6-oz

boneless skinless chicken breast halves

3

cups

low sodium chicken broth

2

cups

water
Instructions
Heat the oil in a large soup pot with a tight-fitting lid over medium heat; add next 9 ingredients (carrots through crushed red pepper flakes).

Cover and cook for 15 minutes or until vegetables soften.

Stir in tomato paste then top with chicken.

Pour broth and water over chicken.

Bring to a boil then reduce heat, cover and simmer for 30 minutes or until chicken is cooked through.

Remove chicken to a cutting board and shred with two forks.

Stir shredded chicken into soup.
Looking for more delicious recipes like this one? Check out our Dinner Answers program today!