In honor of this most ultimate summer squash, today we're giving it the attention it deserves. Sound good?
Zucchinis are packed with beta-carotene, potassium, and B vitamins. They also provide fiber and a bit of Vitamin C, but a large zucchini contains only 16 calories!
While zucchini can be used in muffin and loaf recipes, I prefer to eat it in its pure form, simply stir-fried as a simple side dish. Oh, you know what else is good? Grated zucchini sautéed in olive oil and a bit of garlic with salt and pepper. Absolutely delicious and almost rice-like in texture.
This is one versatile and delicious veggie!
Now, it's time for your Trick:
If you don't know what to do with all that zucchini in your garden, grate it up and put it in the freezer, sealed individually in one-cup servings.
Your Tip:
Select small to medium-sized zucchini if you're eating them for flavor. The bigger guys start to lose their taste after a while. They're okay for purposes like zucchini bread, but they won't do much for you in a stir fry.
And your Recipe!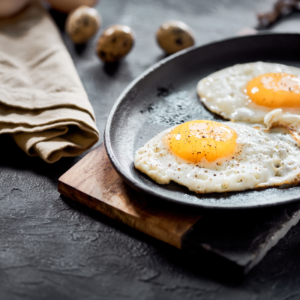 Fried Egg and Veggie Skillet
Ingredients
2

tablespoons

coconut oil

divided

1

medium

onion

diced

1

large

red bell pepper

stemmed, seeded and diced

1

pound

zucchini

quartered and thinly sliced

Sea salt and freshly ground black pepper

to taste

1

teaspoon

fresh chopped thyme

4

large

eggs
Instructions
In a very large skillet over medium high heat, melt half the coconut oil. Add onion, pepper, and zucchini and sauté for 5 to 8 minutes, until tender.

Season with sea salt and freshly ground black pepper to taste. Stir in thyme.

Move the veggies to the outer edges of the skillet and lower the heat to medium. Add the remaining coconut oil. Crack eggs into the center and fry for 1 to 2 minutes. Flip eggs over and fry for an additional 1 to 2 minutes, or until eggs reach desired doneness.

Carefully scoop vegetables out and top with eggs. Season eggs with sea salt and freshly ground black pepper. Serve immediately.
If you want more tasty recipes to help you stay on track and get ready for summer, check out Dinner Answers here!