Now if you're from the South, you are genetically programmed to love okra. I'm from California, but it didn't take me long after moving out to the South to find a fondness for it myself!
Normally, okra is enjoyed as a breaded and fried side item, however breading and frying foods have a tendency to remove the healthy features of them. Okra, like so many other veggies, is rich in fiber and slim in calories which means you can eat a good handful of it, satisfy your hunger quickly, and not have to worry about unnecessary calories. Don't you wish every snack could be like that?
Also, you'll find a good bit of vitamin A in okra. Vitamin A will boost your immunity, protect your vision, and help prevent against lung and oral cavity cancers. Other vitamins in okra are vitamin C and K. Vitamin C is famous for its strength in helping the immune system and vitamin K will help build sturdy bones.
Here's your TIP:
Okra should be eaten while it's fresh because you'll reap the benefits of those vitamins and antioxidants. It's normally prepared by cutting away the crown and tip and cutting the rest of the pod into circular bite-size pieces.
Here's your TRICK:
You can actually eat okra leaves as well as the pods! Many people don't know this, but just throw the leaves in your salad, or you can cook them the same way you would cook the greens of beets.
And here's your RECIPE: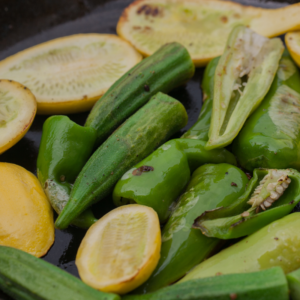 Okra and Squash
Ingredients
4

ripe tomatoes

diced

4

summer squash

sliced

4

zucchini

sliced

6

okra pods

sliced

1

small

yellow onion

chopped

1 to 2

cloves

garlic

pressed

2

tablespoons

olive oil or coconut oil

Sea salt and freshly ground pepper

Fresh basil
Instructions
Saute the onion and garlic in the oil. Once onion becomes transparent add squash, zucchini, and okra. Salt and pepper to taste, and cook for about 5 minutes over medium heat, then remove and serve with basil for garnish.