The antioxidant protection of cruciferous vegetables is powerful. You know from previous articles here in Healthy-Foods and elsewhere that vitamins C and E and beta carotene help ward off disease and illness by helping combat harmful free radicals that naturally accumulate in the body. Free radicals damage your body, causing changes that can lead to all kinds of problems like cancer and heart disease.
One the most delicious cabbages, Savoy cabbage is an amazing source of beta carotene and folate unlike other types of cabbage. Bok Choy too, enjoys the same reputation. Who knew that choosing a simple cabbage could make such a different nutrient-wise? Folate is an important nutrient for preventing birth defects, as well as possibly protecting the body from cancer and heart disease, too.
I've just started getting into eating more cabbage and in my opinion, Savoy is heads above the rest (get it?). Look for it in your produce section next time-it's the pretty looking cabbage with crinkly, curly leaves and pale green color. Bok Choy looks more like celery than cabbage, with its thick white stalks and dark green leaves.
Here is a recipe to help you get more cabbage in your life and more antioxidant protection. Works great as a side dish for nearly anything!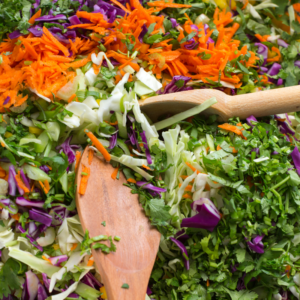 Antioxidant Slaw
Ingredients
1/2

cup

low-fat mayonnaise

2

tablespoons

thawed frozen orange juice concentrate

1

teaspoon

sugar

Salt and pepper

to taste

3

cups

shredded Savoy cabbage

1

cup

shredded carrots

1/2

red bell pepper

thinly sliced

2

tablespoons

golden raisins
Instructions
Stir all ingredients together and serve.