Blueberries are beautiful, sweet, and pumped with fiber with only 80 calories per cup. With all the health benefits that blueberries offer, it's no wonder they're becoming more popular all the time.
One of my favorite super foods, blueberries are an excellent source of vitamin C, manganese, dietary fiber and tons of antioxidants. You know they are ready to enjoy by their deep blue or purple black color and their silvery sheen.
Fresh blueberries are harvested by hand and the machine processed ones are sold as frozen—who knew? Recently a higher percentage of blueberries are being harvested fresh because of the great demand for the bodacious blueberry, hurray!
Here's Today's TRICK:
Storing blueberries is easy if you know how. First make sure you selected the ripest berries, then remove the leaves and stems.
Do not wash your blueberries before storing them, this will cause your berries to become tough. Simply pack into air tight containers making sure to leave a little space at the top for expansion. If you wish, you can spread them out onto a cookie sheet then pack into containers after frozen. Wash before using.
Here's a TIP:
Add a little extra excitement to your chicken salad lunch by sprinkling some blueberries over the top. I love the contrast of fresh blueberries sprinkled over the top of cut up cantaloupe.
And your RECIPE: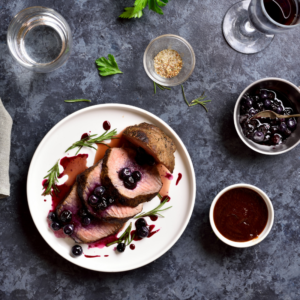 Zesty Blueberry Barbecue Sauce
Ingredients
2

cups

blueberries

1/2

cup

water

3/4

cup

ketchup

1/2

cup

cider vinegar

1/2

cup

packed light brown sugar

1

tablespoon

chili powder

1

teaspoon

ground black pepper
Instructions
In a saucepan, combine all ingredients stirring into water slowly.

Bring mixture to a full boil over medium-high heat, stirring continuously.

Reduce heat to low and simmer, only stirring occasionally.

Sauce will thicken slightly and will have chunks of blueberries.

Cool and refrigerate until ready to use.

Great on pork, chicken or fish.